The Best New Blind Bag Toys & Surprise Egg Toys For Kids
They're everywhere. These are the ones to seek out.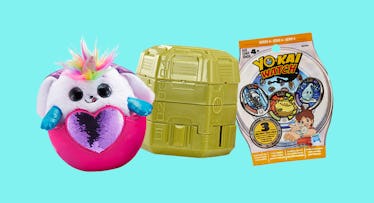 Love them or hate them, mystery toys are not going anywhere. The tiny, collectible toys, which are also called surprise egg toys or blind bag toys, have earned their place in the pantheon of play things so popular with kids that they've overtaken toy stores, checkout aisles, and everywhere in between. Because of this popularity, nearly every brand has its own version of the toys, which means there are tons of options to choose from, many of which are not so great or are pale imitations of what kids actually desire. So if you are looking for a surprise egg toy or blind bag toy for your kids which are the ones worth seeking out? We surveyed the scene and arrived at these 13 options.
Zuru Rainbocorns Sequin Surprise
Rainbow- and sparkle-loving kids will love opening this giant egg with one of four brightly-colored animals inside. The plush possibilities are Puppycorn, Kittycorn, Unicorn, Bunnycorn and Hamstercorn. All are about a foot tall, and come with something called a baby Boo-Boocorn, a tinier (and therefore even cuter) collectible in another, tinier egg.
Ready2Robot POP Bot
Ready2Robot is a web series about a human-piloted robots that battle in out in an arena, firing missiles and slime at each other in order to prove their supremacy. It rocks. With these mystery toys, kids can recreate their favorite battles from the show. Each toy comes with seven pieces that assemble into a robot that's about three inches tall, a pilot figure that snaps into the robot, and a container of slime they can hurl at their opponent. All of the 19 different models have pieces that interlock, so if you get them multiple toys, your kid can build their own hybrid super robot.
Hatchimals Mystery
The surprise toy that started it all, Hatchimals keep appearing in different styles. This one features the same standard approach (rub the sensor-laden egg enough and it will eventually hatch a fluffy animal) but inside could be one of four animals (Bunwee, Pandor, Hedgyhen, Elefly). Once hatched, they can learn their kid's name and use it in phrases that develop as the Hatchimal "grows up" from baby to toddler, with new music and games to discover as it gets older.
Hatchimals Mystery Mini
Thee mystery mini Hatchimals are a much simpler toy: a two-and-a-half inch stuffed animal keychain. It's not a great first Hatchimals toy but big fans of the franchise will like having a character they can clip to their backpacks. There are 18 different Hatchimals that could be inside each of the speckled eggs.
Lego Unikitty Collectibles
Unikitty! is an animated series on the Cartoon Network about unicorn-kitty hybrids who, led by the titular character, fight Master Frown, a villain who seeks to bring negativity into the kingdom. It's based on a character from The Lego Movie.When kids open a blind bag from this collection they'll find 15 pieces that they can assemble into one of 12 figures inspired by the show. Each figure is one of two characters, Unikitty or her sidekick Puppycorn and has a particular outfit and facial expression. They also come with a display plate so your kid can proudly display their collection.
Roblox Mystery Polybag
Roblox is a MMORPG platform for kids that allows them to design their own games. With 64 million monthly active players, it's extremely popular, so it makes sense that they've found their way into the mystery game. Their mystery toys are actually bags of six three-inch characters and six plastic blocks that spell out "ROBLOX." The characters are made up of parts that kids can remove and mix and match to assemble their own creations. Plus, each bag also contains a special code that they can use to download exclusive digital content within the Roblox game.
Funko Mystery Minis: Stranger Things
Funko has an impressive roster of characters available, from Spiderman to the Minions. These vinyl figures of the Stranger Things characters are only 2.5 inches tall, three-quarters of an inch shorter than classic Funko dolls. Still, they're impressively detailed in the standard cartoony Funko style. Sold individually, this particular series contains the main group of kids from the show, two different versions of the Demogorgon, Hopper, Joyce Byers, and Barb (RIP).
Mash'ems
These toys, squishy liquid-filled collectibles, are kind of like stress balls. They're designed to be crushed, twisted, stretched, and otherwise manipulated. They're a couple of inches tall and have disproportionately huge eyes. There are six figures to each theme, things like Barbie, Paw Patrol, and Star Wars. They're sold individually in canisters that tell you which theme your figure will come from but not which specific character it is.
Minecraft Collectible Figure Mystery Blind Box
Each of these boxes comes with one two-inch figurine inspired by the popular creative video game. Each figurine is a human character (e.g. Steve or Alex) or animal (e.g. octopus, rabbit, sheep) that can be found in the game. All of the figurines have the blocky, 8-bit appearance Minecraft is known for.
Yo-kai Watch Medal Mystery Bags
Each one of these mystery bag comes with three medals, each of which is adorned with a character from the Japanese folklore-inspired video game world of Yo-kai. Kids collect the medals and can also insert them into the Yo-kai watch toy (sold separately) or scan them with the Yo-kai Watch Land app. Honestly, it's pretty cool: The watch projects an image of the character onto a nearby surface and the app shows you the same information in a less exciting way. Each set contains three medals and there are a total of 44 available.
Kidrobot Blind Box DC Dunny Batman
Like Funko, Kidrobot has an impressive roster of intellectual properties, from The Simpsons to Sonic the Hedgehog. In this series of vinyl figures from the world of Batman, each figure is a "dunny," a particular kind of toy created by Kidrobot in which rabbitlike ears are added to figurines of characters from pop culture. Each three-inch dunny is sold separately, and there are 15 different possibilities your kid might discover when they open the box.
This article was originally published on