The Best Music Toys for Babies and Toddlers Who Are Ready to Rock
As recommended by Kindermusik's head of product development
by Hudson Lindenberger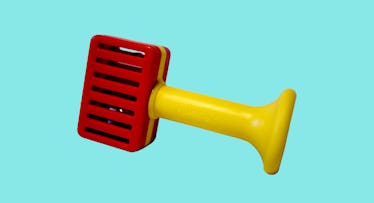 Ready for your baby to rock? Of course you are. Because it's music! And your baby! What a combo. As you're not going to place a Les Paul in your baby or toddler's hand (except for a cute-ass photo), it's a good thing that there are plenty of developmentally appropriate instruments that are safe and fun for babies and toddlers. Colorful, easy to manipulate, and full of different types of exploratory possibilities, at the very least they'll capture your kid's attention.
"Music builds memories and connections, develops early literacy and math skills, and feeds creativity. In short, a musical household is a wonderful thing to provide. When you bounce your baby, sing and dance with your children, and play instruments together, it isn't just fun– it's fantastic for your child!" says Deanne Kells, Vice President of Product Development for Kindermusik.
To find some of the best ones out there we turned to Kells and Kindermusik, one of the leading childhood music programs in the world. For more than 40 years they have been introducing babies and toddlers to music. Here are eight of their best musical toys and instruments they recommend for the chubby hands of babies and toddlers
Chime Ball
This 4-inch vinyl ball is perfect for babies to grip with two hands, and just right for toddlers to hold in one. As they move, throw, or shake it musical notes emerge from inside. It cleans with soap water and the bright colors are visually appealing.
Baby Rainbow Shaker
A simple, yet effective musical instrument, this shaker emits different sounds as your baby tilts it from one side to another. The multitude of colored beads roll and bang against the clear plastic cylinder in which they are enclosed. It's an easy to use percussive instrument that's easy on the ears.
Zig Zag Blocks
Designed for toddlers, these two plastic blocks are meant to be clapped, scraped, and rubbed together to create a myriad of different sounds. They have easy to grip handles and, mercifully, are easy to clean.
Double Egg Shaker
Much like the gourd shaker most everyone used in grade school, these double blue plastic eggs have a filling that rattles against the inside when moved. Good for babies and older children, it creates different sounds depending on the cadence, speed, and angle that children move it. A classic.
One-Bell Red/Yellow Jingle
This plastic instrument has a large jingle bell enclosed inside that emits sound whenever it is shaken or rattled. Sized for toddler's hands they can learn to match a beat with it following along to songs, or just chase the dog around with it, depends on their mood. The large base also acts a pedestal when not in use.
Ratchet Roller
Babies will find endless joy with this simple to use instrument. All they have to do is roll it over a carpet or play mat and the dual colored spinner in the middle will produce different sounds. As they get older and stronger they can spin the music maker themselves.
Mini Tambourine
Simple to use, yet safe for kids eight months and up, this music maker will let your baby create peals of noise whenever they cause the four jingles to crash around. You can try to teach them to follow along to your favorite songs.
Stir Xylophone
This simple circular xylophone has eight different bars to tap that emit different notes depending upon where they are struck with spoon that's included. What else do you need?