What Working Moms Want For Mother's Day, According to Working Moms
Some gifts for the mom who burns the candle at both ends.
by Alexis Barad-Cutler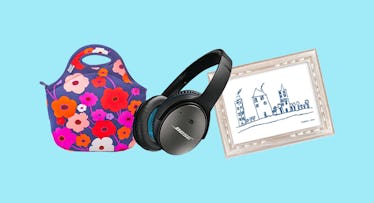 There are few more challenging endeavors in life than being a working mom. It's the equivalent of balancing two full-time jobs with very needy co-workers, except only one comes with uninterrupted bathroom breaks. So when we asked real working moms what they wanted for Mother's Day, the answer almost always fell into one of two categories: Something that requires time to pick out ⏤ time they don't have ⏤ or stuff they'd love to own but would feel bad splurging on themselves. (Although the words "pampered," "recharge," and "acknowledged" also came up, just so you know.) Gifts like fancy lounge clothes for after work, framed art, and plants that won't die after a day all made the list. Along with these seven other handsome hand-selected Mother's Day gifts.
RELATED: The Best Mother's Day Gifts
Persistence Shield Necklace
For the strong resolute mom, this tough-as-nails brass pendant with 14k-gold fill bears the inspiring words: "Nevertheless, she persisted." The nylon cord is available in multiple colors (taupe, black, or red), lengths (it comes as a choker or a long necklace), and closures ⏤clasp or not.
Why a Real Working Mom Recommends This Mother's Day Gift: "I'm not into bling, but this message really resonates with me." ⏤Tamar, 36
Succulent Garden In a Box
Lula's Garden packages beautiful succulent gift boxes that double as planters, and their newly launched Mother's Day Collection includes limited-edition blush boxes with dusty purple ribbons. You can order one succulent/cactus or a whole garden, and each package comes with a care kit that includes a wooden stick and plastic dropper.
Why a Real Working Mom Recommends This Mother's Day Gift: I like flowers delivered to the office, in theory. But I hate that I don't get to enjoy them for more than a day or two. I'd like something more lasting, like a really nice plant, or maybe a cute cactus." ⏤Danielle, 35
Bose QuietComfort 25 Acoustic Noise-Cancelling Headphones
For the mom who endures a loud commute or an open office floor plan, these Bose headphones drown out all the extraneous noise and deliver true-to-life sound. Plus, they have an in-line mic for phone calls and the lightweight over-the-ear fit makes them easy to wear all day long.
Why a Real Working Mom Recommends This Mother's Day Gift: "This might sound boring, but I'd really like a pair of Bose headphones. Not only would they be great for my train commute, but they'd also be useful for calls when I'm not at work." ⏤Lindsay, 37
Custom Framed Kids Art
Minted lets parents create framed prints out of their kid's best artwork, so it can proudly be displayed on a desk rather than just the fridge. Simply upload a picture, choose standard/foil-pressed/letterpress printing, and select from an assortment of classic and specialty frames. They'll even send a digital proof for review so you can see exactly how will look when printed.
Why a Real Working Mom Recommends This Mother's Day Gift: "I'd really like a thoughtful "something" for my desk at work ⏤ maybe a custom framed picture or a cool canvas of one of my daughter's drawings. Something that I would look at daily to keep me motivated on days when I need to push through." ⏤Courtney, 37
Fancy Lounge Clothes
These fashionable joggers by ThirdLove are made from uber-soft organic cotton and breathable bamboo. They're cozy enough to wear around the house but stylish enough for the outside. And, they're the perfect "something a bit more comfortable" for a working mom to slip into after a long day at the office. It even comes in a gifting-ready travel bag.
Why a Real Working Mom Recommends This Mother's Day Gift: "I love the idea of fancy lounge clothes and pajamas. They're a treat and something I wouldn't usually splurge on for myself." ⏤Sarah, 40
Bike Basket
For the stylish bike-to-work mom who knows that rattan is so in right now, this retro-style bike basket is a replica of a style originally made on Nantucket during the whaling era of the 1920s. It's made of fine rattan cane and can hold up to eight pounds of baguettes, fish, and fine wine.
Why a Real Working Mom Recommends This Mother's Day Gift: "I asked for a bike basket for my cruiser. The kids are old enough to ride with me, and I want my son to be able to put things in it. We also adopted a garden plot so I can keep tools in the basket when I bike to the garden and back." ⏤Anita, 37
A Food Dehydrator
Food moms everywhere know the Excalibur ⏤ it's the be-all-end-all of dehydrators. It comes with nine trays, 15-square-feet of drying space, a 26-hour timer, and an adjustable thermostat temperature control that ranges from 105-degrees Fahrenheit to 165-degrees Fahrenheit. It even boasts patented airflow technology that helps the food dry faster, retain more nutrients, and look and taste better, without tray rotation.
Why a Real Working Mom Recommends This Mother's Day Gift: "I have the least sexy new wishlist item ⏤ a dehydrator because I'm now making my own nut butter (to dry out the nuts after soaking). And I love the idea of dehydrating fruit this summer if/when I go overboard picking strawberries and peaches." ⏤Lindsey, 36
A Personal Trainer
Getting to the gym is hard enough but scheduling time with a personal trainer ⏤ forget about it. iBodyFit, an online training site, claims "No gyms. No rude trainers. Just results." The $49 no-contract starter package includes a customized at-home workout plan based on her goals, schedule, fitness level, and equipment (two strength and two cardio workouts per week), a personalized diet plan, and online support to make sure it actually gets done.
Why a Real Working Mom Recommends This Mother's Day Gift: "A personal trainer would help me regain myself mentally and physically to my pre-kids state." ⏤Nikki, 31
'Gourmet to Go' Lunch Tote
This reusable neoprene lunch bag from Built.com can withstand spills, splashes, bumps, and drops ⏤ or, everything that could ruin lunch during a commute. It has a secure zipper closure, stores flat, and expands to fit a variety of food and drink containers. Plus, the neoprene means that food's always insulated and it can go right in the washing machine and come out looking like new.
Why a Real Working Mom Recommends This Mother's Day Gift: "I'm really tired of using my old breast milk freezer storage bag as my work lunch bag, and think it is time for an upgrade." ⏤Jillian, 38
A New Pair of Heels
Cult fashion favorite Everlane's take on the kitten heel is the perfect work pump. The 2-inch "Editor Heel" is made from luxurious, 100-percent Italian Suede that's not only super soft but molds to the shape of the foot. It features a sporty, pull-on tab and comes in one of six different colors.
Why a Real Working Mom Recommends This Mother's Day Gift: "A new, cute pair of heels to keep under my desk at work would be much appreciated." ⏤Carrie, 39
This article was originally published on