Best Mother's Day Gifts 2019
Mother's Day is almost here, so get her something she'll, ya know, love.
by Donna Freydkin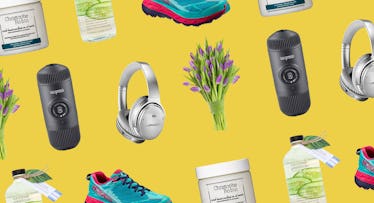 Here's a little-known historical fact: The West Virginia woman, Anna Jarvis, who started Mother's Day in 1908, was eventually so opposed to its commercialization that she boycotted her own holiday. Instead of buying Mother's Day gifts, she insisted that people write their moms (and, presumably, their baby's mothers) long letters of appreciation. Whether or not she was cool with handmade ceramic ashtrays that read "World's Best Mom" is anybody's guess.
Kate Young, a stylist who dresses Margot Robbie, Rachel Weisz, and Dakota Johnson, and is a mom herself, might agree with the sentiment (that it's all about appreciation) but comes at Mother's Day gift giving with a more modern bent. "My mom had a rule that she didn't accept presents that came with warranties. It means it has to be something frivolous you're not meant to use to service the people giving it to you," says Young. "I like jewelry, flowers, luxury items that make you feel good and pretty. I give sunglasses."
Based on our own exhaustive research and her guidance, we found a slew of gifts that even the person who has everything will cherish.
If all other ideas fail you, flowers (the fancy kind) are a safe option. Make her feel special with these lovely purple tulips, which tell her just how much of a queen she is.
The lily symbolizes humility and devotion, and this plant comes in a premium Scheurich ceramic planter that looks good in any room.
Mom can kick back in this super-soft, smooth and sleek set, which comes in a variety of colors. The bottoms have an adjustable drawstring. Because looking like a schlub at home isn't anyone's idea of a good time.
DON'T buy her trashy lingerie that turns you on. If you're not sure what that means, avoid lingerie altogether.
Watch the kids and give her an an hour to soak in this bubble bath, made with cucumber and honey extracts. Go one better and pour her a drink.
Lavender can calm an unruly mind. And these Dead Sea bath salts, which have the most subtle of scents, will help mom wind down, and soak up some relaxation. For the full at-home spa experience, get her the Dead Sea mud, too.
Moms have about three minutes to take a shower. So make it worth her while with this shower gel, made with nourishing shea butter, coconut oil, and vitamins E and pro-vitamin B5. It's vibrant, without being cloying.
DON'T get her a couple's massage. Get her a spa day, and go play with the kids.
This genius device buffs away rough, dry feet and hard calloused skin effortlessly, for the mom who doesn't have time for pedicures. Which most of us don't.
No, she doesn't have time to get head massages. Yes, head massages feel decadent. This is a hair cleanser and scrub in one. It feels nothing short of amazing.
Once you have kids, facials are thing of wonder from another life. So bring the facial to right to her with this set of four serums that calm and soothe skin, from a renowned master of great complexions.
DON'T but her a gift that's actually for you. This goes for kitchenware if she cooks or a bowling ball with your name engraved on it.
Tata Harper is a skin care guru who sources all her ingredients from her organic farm in Vermont. Not only does the stuff really, truly work, but it does so without any dubious chemicals. With this set, you get a cleanser, a mask, an essence, a serum, a moisturizer, an eye cream and a face oil, and it's great for moms who like a more natural approach to skin care.
This paper planner features coated tabs, gold foil accents, a pocket folder with a ruler, and inspirational quotes throughout it. As an added bonus, go ahead and book her a massage, and make sure you add it to the planner.
Understated yer gorgeous, this hammered pendant charm in gold plated vermeil is a great gift because you can personalize it, and mix and match as many as mom wants.
No discerning human will ever turn their nose up at Gucci. And this sterling silver ring, engraved with "blind for love," is pretty much the coolest of gifts. It's a 1/4 inch band, and is made in Italy.
Moms are tired and tired moms will appreciate this coffee-to-go. You fill the filter basket with coffee, add boiling water to the tank, and pump it into the cup. Java, in a jiffy.
DON'T buy her a gym membership or any kind of workout gear. You're telling her she needs to lose weight, whether you mean to or not.
No more rushing home from work and walking into a house that smells like cats and diapers. This next-level diffuser lets her revel in scents she loves, which she can control remotely.
These gorgeous headphones have three levels of noise cancellation, are Alexa-enabled for voice access to music and have a noise-rejecting dual-microphone system. She can relax in peace. And tune everything out.
Order this necklace ahead of time, and it will arrive encoded with a word using morse code that only the wearer knows. It's special to her, and shows that you put actual thought and planning into getting her the necklace.
DON'T give her an IOU. Your four-year-old can get away with it, but you can't.
We know the benefits of meditation. And this stunning cherrywood bench gives mom (or anyone) a more comfortable way of sitting thanks to its curved shape. Plus, you can take off the legs and take it anywhere with you. It's zen on the go.
These cozy wool clogs are made from sustainably sourced, eco-friendly materials, hailing from a sheep farm in Lithuania. She can wear these handmade clogs both indoors, or out, and we particularly love the toe accents.
Maybe she wants to clear her head with a solid run. You can choose between some seriously offbeat designs. And looks aside, this is a solid shoe for any terrain she wants to conquer. Thanks to the HOKA ONE's wider flare in the forefoot and toe, she can run longer and harder on any trail she wants.
DON'T get her a pet. You really haven't thought this one through, have you?
We love Society6 because all the products are created by independent artists. And we particularly love this pillow because it recognizes the queen bee in your home. And by queen, we mean mom.
You can't go wrong with a solid piece of wall art. And this portrait of an ostrich, staring right at you, by Brooklyn artist Spring Hofeldt, is dynamic, and unique. Like mom.
Let's face it. Once you have kids, relaxing beach getaways are a thing of the past. Now, she can go there with this candle, which has notes of bergamot, plumeria, cedarwood, sandalwood, amber, and musk.
The flip-top lid is basically leakproof, and the bottle can also be used to brew a mean cup of tea. There's a stainless steel filter that's easy to clean and all the components are dishwasher-safe.
Commemorate your new family by ordering this customized print, which features your family's last name and the year it was formed. You can choose from different colors to coordinate with your home decor.
Made from reclaimed wood, this sign can celebrate everything from the exact location you met, to where you married, to where your child was conceived. Again, a thoughtful and unique gift that will score you points.
This stunna of a nameplate necklace is made by hand, and comes with a 16 inch long chain with a two inch extender and lobster claw clasp. You can choose between silver plated, rose gold plated, or gold plated.
There's awkward family photos. And then, there's this badass little creation. Here's how this works. You submit photos and any meaningful details, and end up with a unique hand-drawn portrait of your family. Can't get more personal than that.
Let her dissolve her stress with this purple bath bomb, which is phthalate-free, paraben-free and vegan, and has a nice dose of humor.
Fragrance is a fairly obvious choice when it comes to gifts, but this one is unexpected enough to be a winner. This scent is a veritable bouquet in a bottle, with notes of jasmine, freesia, centifolia rose, and osmanthus. It's romantic and adventurous and fun. Just like her.
DON'T give her a home renovation project as a gift. It's something you two decide together. And it's just one more task for her to do.
You just send in profile photos, and the artist gets to work. Each silhouette is handmade and backed on high-quality card stock with a subtle texture to give it depth. Send one of her, or one of the kid.
She'll never spend hours hunting for that perfect family snap ever again. This device collects all of your favorite photos and videos from your phone, computer, USB drives and cloud and social media accounts and lets you find what you're looking for, when you use the app.
We know Alex Woo and love her jewelry, which is all made in New York and literally lasts forever. This particular necklace is a sweet shoutout to mom and shows how much she's appreciated.
Why get her this styling tool? Because it's totally cordless, but totally powerful. It uses an LG lithium-ion battery and holds a charge for up to 45 minutes at the highest setting. She can walk around while doing her hair, instead of being tethered to a power cord while dealing with kids.
These oils are hand-blended to match whatever mood she's in. So she can either opt for a revival blend, a relaxing bled, a de-stressing blend, or a blend to boost inner strength. Who couldn't use that?
This sneaker features a clean lace-up design with uppers of water-resistant nylon and two sets of laces. Plus, the contoured foam footbed offers comfort and a natural rubber outsole ensures durability.
The shades protect her eyes. And there are tiny, unobtrusive, built-in Bose speakers that let's her listen to music, news, or podcasts. So she can basically tune out the world. And especially, you.
For the mom with the green thumb, this is a vintage-inspired gardening bag with multi-way straps, and a drop-out bottom for easy unloading.
To go with the gardening bag, we found this pruner and sheath, made from durable steel and featuring copper accents. If you piss her off, you've been warned.
Even the most challenged of gardeners will have a tough time killing succulents. This box contains three small plants based on seasonal availability, and all are easy to keep alive in their handcrafted planter box.
Every product on Fatherly is independently selected by our editors, writers, and experts. If you click a link on our site and buy something, we may earn an affiliate commission.