The Best Workout Headphones At Any Price
Including a killer pair of wireless, waterproof buds that costs $35.
by Ben Radding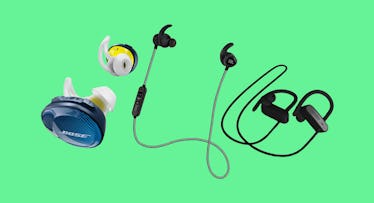 You can't just go to the gym with your normal pair of ear buds. Well, you can, but you may not be happy with the result: at best, they fall out of your ears; at worst, they'll get totally borked from too much sweat and go right into the garbage. What you need are headphones that are made specifically for working out.
There are a ton—and we do mean a ton—of workout headphones on the market. So you have to be particular about your choice. The most important thing in a pair of workout buds is fit. When trying on a pair, pay attention to whether they fit comfortably in your ears — or, if they're over-ear, on your ears. Shake your head to make sure that they don't fall out or fall off with one whip of your neck. And ask yourself if you'd be comfortable wearing them for long periods.
The second question you'll want consider is: wireless or not?. A Bluetooth connection can jack up the price, but you'll be completely hands-free—lacking having any wires. Bluetooth is the future of headphones, so we think it's an important quality when looking for buds to work out in. That's why our faves are all wireless.
The third thing to take into consideration is the durability — meaning, how much sweat the buds can take before they fizzle out? While that can be difficult to gauge based on the packaging (most workout buds will say they're "sweat-resistant" or something along those lines), you can look for an IPX rating online, which indicates how much water a pair of buds can take before shorting out.
Finally: the sound. You want your music to sound good, right? You want clear sound that's not too tinny. If you're working out, then a more bass-heavy sound is likely your style.
With all that in mind, we've rounded up the best workout buds you can find—at any price range. So no matter your budget, you'll have a great run or lift.
Best Workout Headphones Under $50: Senso ActivBuds
One of the few pairs of buds under $50 with Bluetooth that actually works. These buds mimic the hyper-popular Beats PowerWireless design to deliver a comfortable fit that clamps right over your ears, suppress outside noise, and their battery offers nine hours of continuous playtime (or 240 hours of standby). The best part yet may be that they're waterproofed with an IPX-7 rating—meaning, technically, they can be submerged in water up to a hundred meters (300 feet) for a short period without sustaining any damage — so your sweat should be absolutely no problem. There have been complaints about the mic and, certainly, the Bluetooth might drop from time to time. But for a $35 pair of workout buds, it's hard to ask for better.
Best Men's Workout Headphones $50-$100: JBL Reflect Mini
The JBL Mini Bluetooth headphones sport a lightweight cable with ergonomically designed buds that fit snugly inside your ears—as opposed to sticking out. A relative bargain for under $100. They're fairly sweat-proof with an IPX-4 rating (basically, they're resistant to water sprays) and have a remote mic for taking calls—though please don't do that in the middle of the gym. A big bonus for night runners: the cable is reflective, so drivers and other runners will be able to see you from a distance.
Best Men's Workout Headphones $100-$150: Jaybird X3 Wireless
The cream of the more than-$100 crop, the Jaybird X3s have three sizes of excellent molded buds that fit into your ears effortlessly. They're smaller than older iterations, but last longer—over eight hours of battery life on a single charge. They sound a whole lot more bolder than the ActivBuds, but you'd expect that at this price range, and though there's no given IPX rating, user review indicate can take a lot of damage. Plus, should anything go haywire, they're backed with a one-year limited warranty. Like with any Bluetooth buds, you have the risk of dropped connections, but that's a small complaint for an overall excellent pair of wireless headphones for only $100.
The Best High-End Men's Workout Headphones: Bose SoundSport Free
"Truly wireless" is the future. "Truly wireless" means Bluetooth buds without the attaching cable (think AirPods), and this pair from Bose delivers an excellent hands-free experience with a solid fit and a tech'd-out look that means you're on the cutting edge. The biggest bonus: they deliver Bose-quality sound. So unlike other workout headphones, your jams will always be full and clear. Bose makes it easy to track lost buds in the app, and they come with a durable charging case that makes it a cinch to power your workout with up to 10 hours of battery life. They're also rated IPX-4 —sweatproof—and come with a variety tips for just the right fit. Pricey, of course, but in this case, you get what you pay for.