This Is the Best Underwear I've Ever Worn
I looked far and wide for a pair of breathable, comfortable underwear that could combat the heat. Finally, I found them.
by Nicholas Lorenz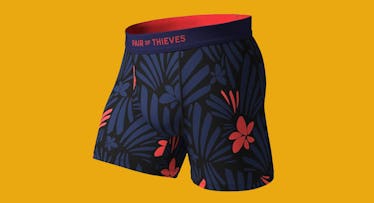 It's that time of year again, where the summer heat makes it feel as though my crotch is constantly leaning against a furnace. I live in Miami, where a subtropical sun and, oh, 11,000 percent relative humidity conspire to leave me — and my business — feeling more than a little funky. Unwilling to sweat it out another summer, I committed to finding a pair of men's underwear that could help me. I'd tried everything from boxers (cool, but too bunchy), to Hanes ComfortSoft boxer briefs (great for home lounging, but they absorb too much moisture when I'm active) and found nothing. Then, on a whim, I bought a new brand of underwear off the clearance rack at Target and unwittingly discovered the only pair of underwear I'll wear henceforth: Pair of Thieves SuperFit boxer briefs. And oh man they're the most comfortable, versatile and breathable pair of men's underwear I've ever worn.
I already knew of Pair of Thieves because of their dope Twinsies sock sets that are available for parents and kids, so I felt confident in the brand quality. And man was I right: The SuperFit style is geared toward active wear and is advertised as "AC for your junk". It is not false advertising: the stretchy mesh is cool to the touch and remains noticeably breathable throughout the day. The fabric (85 percent microfiber polyamide / 15 percent spandex) is lightweight and feels like a basketball jersey, with all-day support that doesn't constrict or chafe.
Best yet, this underwear is excellent in high heat, as the moisture-wicking, quick-drying material prevents the dreaded "swass." I've worn them everywhere, even on a weekend camping trip to the Everglades, and felt fresh even after 48+ hours in the same pair.
Another bonus: Unlike other pairs I've tried, Pair of Thieves boxer briefs don't ride up. Whether I'm running errands in slim-fit pants or doing my little contortionist wiggle to maneuver into napping position with a sleeping 25-pound baby on my chest, they keep my goods comfortable and secured. The aesthetic sense is on point, too, with designs ranging from flamboyant to understated—something for everyone.
I own nearly ten pairs now, mostly SuperFit long boxer briefs, and only wish I'd discovered them sooner than last month. Now, at $13 to $20 per pair, they are by no means inexpensive, but the performance and comfort provide a high return on investment. And in the heat of summer, what more could you ask for in a pair of underwear?
Every product on Fatherly is independently selected by our editors, writers, and experts. If you click a link on our site and buy something, we may earn an affiliate commission.
This article was originally published on