The Best Men's Leather Gloves to Keep Your Hands Working This Winter
Including work gloves, dress gloves, and everything in between.
by Jon Gugala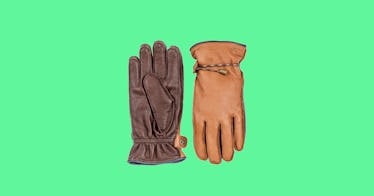 Whether you're rebuilding a fence post or winding down Park Avenue, carrying a briefcase or a toolbox, there's a pair of leather gloves for you. We've yet to find another material that can match the warmth, durability, and dressed-up and dressed-down style potential of leather. And despite its pricey reputation, there are plenty of affordable options around. But with so many choices, it can be hard to find the pair that everything you want in terms of price, functionality, and style. As such, we scoured the market to find a variety of leather gloves that are not only well-reviewed but run the gamut from pricey to inexpensive. Some are everyday touchscreen-able gloves; others are durable buckskin mittens. All keep your hands nice and toasty no matter how low the temperatures drop.
Give'r Classic Give'r Gloves
Jackson Hole-based Give'r has created an inexpensive icon with its gloves, which come in three different variations. You can pick up an unlined lightweight pair for $29 or the more heavy-duty 4-Season gloves for $114, but we think that, for $45, the mid-priced Classic Give'r Gloves are the best choice for most guys. The fleece-lined mitts are known as the glove of 100 uses for good reasons: their handsome yellow color, warm insulation, and hand-branded leather. These gloves are durable enough for the most rugged jobs. And even though it's not exactly necessary, we love the fact that you can get your initials burned into your new pair free of charge.
Red Wing Heritage Men's Gloves
These gloves are made of 3.25-ounce deerskin leather that's tanned in a similar manner to Red Wing's famous shoes. You can pick them up in three different colors: black, brown, or nutmeg). You can also choose from sizes small to extra large, and you should make sure you err on the side of a smaller size. Natural leather has a tendency to stretch, so you can break in these gloves the same way you might break in a quality pair of Red Wing boots. The gloves are lined with a 40-gram Thinsulate lining that adds a lot of warmth without too much bulk.
Kinco Pigskin Leather Ski Gloves
Ski gloves bring to mind synthetic materials with tough-sounding features with technical-sounding features like Omni-Heat and Polartec. But you can still get a great pair of ski gloves made with leather, a pair like these Kinco gloves. The company claims that their pigskin leather will outlast both cowhide and fabric ski gloves. There are leather patches on the palm and fingers, areas that get a lot of wear and tear from skiiers. The glove are filled with a thermal lining that'll keep your fingers cold no matter how fast you shoot down the mountain. Even the wettest snow is no match for the waterproofing wax that coats the leather.
Hestra Granvik
Hestra cuts their Granvik gloves from supple elk leather and then lines them with a moisture-wicking, insulating wool terry that feels as good as it sounds. They're available in four different colors, standard black and brown varieties along with olive green-brown and red-yellow combinations that are a little more out there than the other gloves on this list. Beyond their style, the quick-draw pull cord that seals draughts off at the wrist and is held in place by an elastic-backed inner section is probably our favorite feature of these toasty gloves.
Danner Elkskin Unlined Glove
The unlined Danner Elkskin Unlined Glove's shining mark comes from its low profile. They're fantastic for cold but not brutally cold weather, those in-between temps when you don't want to leave the house ungloved but too much padding will leave your hands sweaty and gross when you arrive at your destination. The unlined quality of these gloves also means that you can feel more through the fingers, and the elk leather is nice and grippy so you don't have to worry about things slipping out of your hands.
Canada Goose Quilted Luxe Gloves
While not as iconic (or pervasive) as their winter coats, Canada Goose gloves are nevertheless a solid choice if you're looking for a slightly dressier glove. Under the ribbed leather stitching, tight insulation runs throughout, creating the warmest glove on this list. While dexterity is such that you can easily text with the index-finger touchscreen pad, it's plenty rugged. The designers had the good sense to reinforce the leather in high-wear spots.
Filson Northern Pacific Leather Mittens
When it comes to the wet, cold winters of the Pacific Northwest, local outerwear company Filson knows what your frozen fingers need most: each other. Its Northern Pacific Leather Mittens enclose fingers together, swaddling them in a wet-or-dry wool lining encased within wild deer buckskin. These mittens run a little large so you can put on a pair of liner gloves before throwing these on. On days when it's truly frigid, you'll appreciate the ability to wear what's essentially a base layer for your hands.
Timberland Mixed-Media Panel Gloves
Combining neoprene and leather in just the rights spots, the Timberland Mixed-Media Panel Gloves uses both materials to its advantage. On the index-finger tips and across the high-wear area of the back, a gloss-black goat leather is implemented. On the palms and cuffs lies a waterproof neoprene, which grips wet or dry. Their combination is both touchscreen-friendly and incredibly practical.
Uline Cowhide Gloves
Looking for a bargain? Look no further than these Uline Cowhide Gloves. They cost a fraction of the price of the other products on this list but you still get a leather glove with an elastic wrist band that keeps cold away from your hands. Uline's offering is not fancy—in fact, the company claims they're the favorite of forklift operators and long-haul truckers—but they'll more than do the job for the season. You can unlined pairs for $11 each, but we think it's worth the extra buck to get lined pairs for $12 each. These gloves are so inexpensive that they're sold in three-packs, so even if one pair does wear out you'll have a couple of extra ready to go.