Best Mattress Toppers for Every Kind of Sleeper
An easy guide to revving up your REM cycle
by Jon Gugala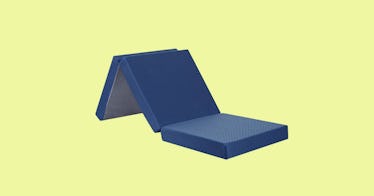 Parents need sleep. If you've been tossing and turning a little too much but aren't ready for the expense and hassle of replacing your mattress, a mattress topper, or a pillow top mattress pad, is a relatively cheap and easy way to improve the quality of your shuteye.
Sleep is crucial to your wellbeing, and your sanity. According to the National Sleep Foundation, we spend one-third of our time sleeping and adults need an average of seven to nine hours of sleep per night. To get solid sleep, of course you need a supportive, comfortable mattress, which is where a mattress topper comes in. It can help turn a dud of a mattress into a dreamy haven.
Like mattresses themselves, mattress pads come in a range of options. It's because of the wide variety of mattress toppers that even the pickiest of sleepers can find one that suits them, whether their priority is to cool off, sink in, or firm up their sleeping surface.
And even if you have a near-perfect mattress, a mattress topper is still a useful item that can help you customize your bed, making it that much more pleasant (and a solid alarm clock even more of a necessity). Here are some of the best mattress pads no matter your preferences.
Best Mattress Toppers
Pros: A few reasons we like this mattress topper. The ventilated gel memory foam helps keep you cool and contours to fit your body shape. And the down alternative topper is machine-washable. You can use them together or separately.
Cons: It's not thick enough for some sleepers.
Pros: Because it's made from three inches of the foam used on the full mattresses, you get all the same benefits, including the custom shaping to your body, temperature management, and hygiene. The latter is thanks to a washable, allergen-resistant cover. Plus, it's an investment piece of sorts. How, you ask? Instead of shelling out for a new mattress, you can trick out your current one to be truly flawless.
Cons: The price. Wow, the price. For the cost of a Tempur-Pedic mattress pad you can get a whole new mattress from a less expensive brand. There's also a small break-in period to expect as your topper adapts to you, not unlike wearing a new pair of leather shoes.
Pros: We love that this mattress topper helps alleviate pressure points, making you sleep better. Plus, it has a unique construction that keeps cool air in and heat out, so you'll have fewer night sweats.
Cons: This topper can feel a little flimsy to some.
Pros: Ideal for side sleepers, this natural foam latex mattress topper gives you just enough support. It stays contoured and will stop your mattress from sinking in the middle. It will not absorb body heat and can in fact make your sleep cooler, which is a bonus.
Cons: Because natural latex is harvested from the rubber tree, this one has a definite rubber odor, so make sure you air it out before using it.
Pros: It's easy to use. You stick it on top of your mattress and it instantly conforms to your body. If you tend to get hot at night, this mattress pad has gel beads that help keep you cool. And the memory foam helps align your body. You can choose between the two-inch and three-inch option.
Cons: It can go flat in time, and it can move around if you're a toss-and-turn sleeper.
Pros: This memory foam topper is infused with bamboo charcoal, which naturally helps regulate moisture, temperature, and odor for a naturally more comfortable sleeping environment.
Pros: This topper feels substantially different than others on this list, adding some softness and better warmth. As previously mentioned, it avoids the pitfalls of foam toppers while having the added benefit of not divoting over time. While hypoallergenic and antibacterial, it's also machine-washable—try doing that if your foam model gets soiled. And while it claims it doesn't have the propensity for hot spots like foam, it is nevertheless super-warm and a cozy pick for chilly winter nights.
Cons: While D & G's offering may add softness, it provides zero support, suggesting that those with back issues should keep looking. Also, because it's one of the thinnest on this list, some may find it doesn't alter the feel of their existing mattress enough to justify the expense.
Pros: Green tea extract and castor natural seed oil are integrated into the foam, each helps eliminate odor-causing bacteria for a fresher smelling bed.
Cons: This topper is on the firmer side, so you won't sink into it like you would a normal memory foam topper. Those who want a soft sleeping surface should look elsewhere.
Pros: Gel-infused toppers anecdotally provide the same cushion of traditional foam cores without the possibility of overheating. We also loved the quilted coverlet that keeps everything sanitary and machine-washable.
Cons: Man, this thing is heavy, clocking in at almost 20 pounds for the twin size alone (around four times the weight of a standard topper). If convenience and portability is a factor, there are lighter options on the market.
Pros: Spills of less than 200 milliliters won't soak through the cotton layer into the down alternative fill. And if you do have a larger issue you can throw this thing in the washing machine.
Cons: This pad is a good choice for making your mattress a bit softer, but it's not great if you need a lot of extra support.
Pros: If rarely use a topper, are dealing with an injury that is eased by one, this storable design might be a good option. It's handy and easily hidden. Take our word for it: traditional toppers, while arriving in small packages, never go back in them.
Cons: Ever met someone who says he or she has too much storage available? Neither have we. If you plan on leaving a topper on nonstop, why purchase a foldable design? For sensitive sleepers, there's also a possibility of feeling the segments.
Pros: Traditional foam toppers provide structure and support; gel toppers are great for cooling and soothing. DreamFoam's topper combines both of them, and the company claims it helps increase airflow while cooling, supporting, and cushioning.
Cons: Great performance doesn't always have longevity, and some reviewers dinged it for not maintaining its standard year after year. As we noted earlier, you get what you pay for, and this topper's price tag suggests it's too good to be true (for very long).
Pros: The ten different heat levels mean you can finetune the temperature to your specifications, and a controller on each side of the bed mean you and your partner can have separate settings.
Cons: The 100 percent polyester fill is nothing to write home about, so this pad doesn't add much during warmer months.
Every product on Fatherly is independently selected by our editors, writers, and experts. If you click a link on our site and buy something, we may earn an affiliate commission.
This article was originally published on