Best Lego Technic Sets: Sports Cars, Motorcycles, Ships, & Trucks
Over forty years after its launch, the Lego Technic line is home to some of the coolest collaborations and motorized models in the Lego universe. Here are nine you should check out.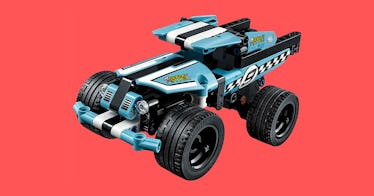 Lego Technic sets have always been an under appreciated arm of the Lego universe. Despite coming out in 1977, they've never really competed with classic Lego bricks in the popular imagination, always remaining something of a niche product compared to traditional brick and minifigure models. However, the Technic system, which is more gear- and rod-focused, allows for designs with more complicated configurations, moving parts, and battery-powered motors. It's a different building experience, and one that's as less fun, if not better, as building traditional Lego bricks.
The Technic line has some great original designs as well as official replicas of everything from BMW motorcycles and Bugatti sports cars to Volvo construction equipment and Mack trucks. Here are nine of our favorite Technic sets. Even the most ardent brick-lover should give them a chance.
Ocean Explorer
The most common question users have about this set is if it can float. Sadly, the answer was no, but this intricate, nearly two-foot long ocean explorer ship is still a great way to live out your Steve Zissou fantasies. And really, it's three vehicles in one set. The fore of the ship is dominated by a helipad and helicopter, presumably for scouting dive locations. The aft has a functioning crane that lifts a miniature model of a submarine. Details like buoys on the side and the sliding mechanism under the crane bring this set from good to great.
Racing Yacht
It's still a boat, but this nautical set couldn't be more different. The garish colors highlight a smaller, 14-inch long build, its compact size to scale with the dimensions of a real, Americas Cup-style yacht. Following an alternate set of instructions, you can also make a catamaran, if that, um, floats your boat.
Container Yard
Kids love construction equipment and this 631-piece set has enough cool features to make loading and unloading cargo onto trucks as cool as they believe it is. The two containers, cleverly labeled "Bricks and Beams Transport," can be picked up by the grabber at the end of the extendable boom on the container loader, which, like the truck, features working steering mechanisms.
RC Tracked Racer
Those two magic letters, "RC," are the most important feature of this 15-inch model, because the only thing cooler than building a car that moves on its own is building one that you can control. This model comes with a battery-powered motor and receiver that kids assemble themselves, almost like a rudimentary robot. The tank-like track system is a fun alternative to wheels that takes advantage of the gears that make up much of the Technic line.
Stunt Truck
It doesn't have a battery-powered motor, but the pull-back action on this seven-inch truck is still pretty cool. It comes with a ramp that lets you launch it into the air. If you buy the separately sold stunt bike you can even make what Lego calls a "combi model" that uses pieces from each set to make a bigger, badder vehicle.
BMW R 1200 GS Adventure
This officially-licensed, 13-inch model of a BMW motorcycle deftly employs a lot of the smaller Technic pieces to create a realistic engine (with moving parts), steering and suspension system. The back of the model has three cargo containers. And if you get tired of the motorcycle, take it apart and reassemble into a concept model created jointly by Lego and BMW designers.
Volvo EW160E Excavator
Bring on the heavy machinery. We appreciate the safety of Volvo's regular vehicles, but the raw power of construction equipment makes it much more fun to emulate with a Lego model. This particular set can be built as an excavator or compact material handler. We prefer the foot and a half-long excavator for its rotating cab, extendable boom, functional grabbing bucket. You can even integrate a separately sold motor kit to power the boom and make the lights work.
Mack Anthem Truck
This 32-inch model of the iconic Mack truck goes heavy on the details, including a six-cylinder engine with moving pistons, accurate cab interior, and rear-wheel drive. There's even a bunk, because every trucker needs a nap every once in a while. The set can also be built as a garbage truck with a dumpster-lifting mechanism that goes over the cab. But the coolest part might be the tiny, golden bulldog hood ornament that adorns both models. We think it's safe to say that you won't find that piece in any other set.
Bugatti Chrion
It may not be as fun as the life-size version, but this 1:8 replica model has all of the features of the iconic sports car. A top speed key lets you switch the active rear wing from handling to top speed. There's an 8-speed gearbox that actually works, a sophisticated W16 engine, and interiors designed to resemble the real thing. It's nearly two-feet long and comes with a unique serial number and "stylish Bugatti overnight bag" for a truly luxury experience.
This article was originally published on