The Best 'Lego Movie 2' Playsets to Build After You See the Sequel
These are the most awesome of the bunch.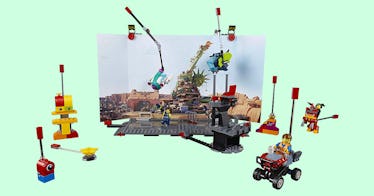 The Lego Movie 2: The Second Part hits theatres today, and that means there are a bunch of brand-new Lego sets hitting store shelves. By our count, you can pick up 20 new minifigures and 20 new sets inspired by the film that you can buy today (along with at least one more that you can't get until May).
Like a kid looking for a particular brick in a giant plastic bin, we sorted through the sequel-promoting sets to find the ones that look like the most fun to build and play with. There are great options for everyone from Lego amateurs to advanced builders. If you and/or your kids are feeling inspired to build as you walk out of the movie theater, these are the sets to check out.
Emmet and Lucy's Visitors from the DUPLO Planet
The sequel picks up where the first film left off: Aliens made of Duplo bricks are invading Bricksburg and wreaking havoc. So it makes sense that Duplo sets, composed of larger bricks that don't pose a choking hazard for younger kids, are being released this time around. This 53-piece kit is rated safe for kids two and older, and it even comes with unique, Duploized versions of Emmet and Lucy.
Battle-Ready Batman and MetalBeard
MetalBeard was one of the best minor characters in the first film, and we think that Will Arnett is among the best actors to ever play Batman. This 168-piece kit brings both characters together in elaborate suits: MetalBeard's cobbled together from pieces of a pirate ship and Batman's throne equipped with wide wings and a You're Welcome sign. There's also a Maddox minifigure armed with a spear and a Star figure from the new film.
The Lego Movie 2 Lego Movie Maker Building Kit
If The Lego Movie 2 inspires your kids to film and build, this is the perfect set. It comes with a stage that's nine inches tall, six inches wide, and almost a foot deep, along with three minifigures, plenty of props, and mechanisms to make everything move around. There's also a special stand that kids can strap a smartphone into and, with an app designed for the purpose, use to shoot their own footage. They can also edit and share their masterpiece in the app once filming wraps.
MetalBeard's Heavy Metal Motor Trike!
What do you get when you combine a pirate ship and a chopper-style trike? This delightful, vaguely steampunky trike. It comes heavily armed with two adjustable canons and a shark shooter (which is exactly what it sounds like). The foot long cruiser has rubber wheels, a crow's nest, and intricate engine and exhaust pipe details. Two minifigures, a star, and a shark with real snapping jaws round out the set.
Welcome to Apocalypseburg!
We've already sung the praises of the biggest Lego Movie 2 set, but it's worth repeating: Welcome to Apocalypseburg! is 3,178 pieces of awesome. The Planet of the Apes-inspired head is modular, with sections that can be easily de- and re-attached so it's easy for kids to play in rooms like a café, Lucy's hideout, Fuse's workshop, and a rooftop diner. There are tons of small details for kids to discover, and 12 (!) included minifigures to fill out the set.