The Best Lego Minecraft Sets for Brick-Loving Kids
Because even the most Minecraft-obsessed kids could use a break for real life play.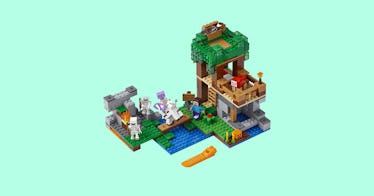 Few collaborations are more natural than Lego, the legendary brick building toy, and Minecraft, the wildly popular brick-based video game. Since 2012, the two companies have collaborated on a line of Minecraft-inspired Lego sets that feature characters and settings from the game. These sets tend to be interactive, with easy to rearrange modular designs and moving parts like booby traps and projectiles. Here are seven of our favorite Lego Minecraft sets; all would make great gifts for kids who love bricks both plastic and computer-generated.
The Skeleton Attack
The eponymous skeletons are the coolest things about this set. It comes with two regular skeletons and a skeleton horseman, along with Minecraft Steve and red sheet minifigures. There's a trap door hidden at the top of the tower that makes up the bulk of this 457-piece set, which is made up of easily swappable, stackable sections.
The Polar Igloo
This 278-piece set comes with plenty of white bricks that make up the snowy terrain, polar bears, and of course the igloo itself. Kids can take the roof off the igloo to play inside, fish with a special fishing rod piece, and even launch arrows at a buildable stray figure to protect their arctic fortress.
The Zombie Cave
You can't have Minecraft without mining, so this 241-piece set comes complete with coal, gold, diamond, and redstone elements. There's a button-activated TNT function, upside-down-hanging bats, and even falling gravel to imperil the minifigures. Sounds dangerous, and that's before you even consider the included zombie figures.
Crafting Box
As its name suggests, the purpose of this kit is to help kids create their own Minecraft models. Among its 521 pieces are plenty of Minecraft elements, a handful of figures, and even a diamond pickaxe. If your kids are looking for some inspiration, they can consult the included instructions for eight different builds and a periodic table poster with the Lego Minecraft elements that'll help them get creative.
The Melon Farm
This set is basically a recreation of the Agricultural Revolution in Minecraft form. There's a melon farm with a domesticated pig that helps Minecraft Steve harvest delicious rinded fruits and a booby trap feature that helps him protect his farm from the Creeper. At just 69 pieces, it's the smallest set on this list, and it might work better as a stocking stuffer than the others.
The Nether Railway
Of course, it wouldn't be a true Minecraft experience without exploring the Nether dimension. Kids can assemble the 387 pieces in this set into a modular railway complete with minecart. They can rearrange the different modules as they see fit and even activate a hopping magma cube function. The best part of this set? No need to construct a Nether portal.
The Jungle Tree House
This massive set includes an elaborate tree house built around three trees, the tallest of which is about eight inches tall. The house comes complete with a waterfall slide, secret trap door, and plenty of figures, including an ocelot, because why not? At 706 pieces and $190, this set is a great choice for more advanced Lego builders.
This article was originally published on