The Best LEGO Accessories to Make Your Bricks Bend, Fly, and Move
You can also turn them into app-controlled pet robots.
by Dave Baldwin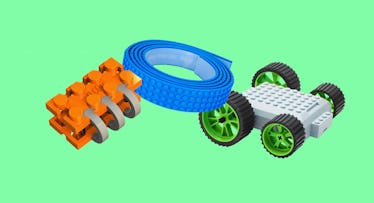 Legos might be the most popular toy in the history of toys, but that doesn't mean they're not without some limitations. They don't bend. They don't fly. And, unfortunately, they can't teach your kid to program a robot that will fetch you a beer.
It's why there's been a boom in recent years in innovative Lego accessories, Lego-compatible companion kits, and Lego add-ons. Everybody, it seems, wants to bring these plastic building bricks into the 21st century by helping kids turn them into drones, remote-controlled cars, and even app-controlled pet robots. Some of the products require you already own bricks and others are standalone kits, but all are 100-percent compatible with Lego, KRE-O, and Mega Blox. And all will capture a kid's attention and add tons of fun to their already-favorite toy.
Mayka Toy Block Tape
Mayka Tape (originally Nimuno Loops) are rolls of flexible double-brick baseplates that you can stick on (or wrap around) pretty much anything. The Lego accessories bend, flex, and can be cut to size. And their adhesive backing is strong, but not so strong that you can't pull it off the fridge and stick it to the coffee table. Each roll is 6.5-feet long, is sold in two or four packs, and come in one of nice colors.
Lego Boost
Lego wants to give your kid a leg up on getting into a fancy engineering school. The Boost is their set of Bluetooth-enabled smart bricks that lets you build and program robots and other functioning models using motors, sensors, and an interactive coding app. Make a talking robot. A guitar. A space rover. A pet cat (what?). And even an automated production line that builds … more Lego toys. The creative toolbox comes with over 840 pieces, but it's totally compatible with the other hundreds of bricks currently lying around your living room.
Flexo Bendable Construction Bricks
One of those innovations you're surprised hasn't existed for ages, Flexo's a set of traditional Lego-compatible construction bricks that are connected by flexible elastic tendons and boast "a full range of movement, from flat to 180 degrees." They were designed by a dude in New Zealand as a Lego accessory for your kid's existing brick collection, but each kit includes both tendons (in four sizes of varying flexibility) and bricks, so you don't technically need anything else.
Brik Tile
Brik Tiles are 10-inch x 10-inch plates that let your kids cover their walls with Legos. And not only can they change their new "wallpaper" pattern on a whim (as they're wont to do), but you don't have to break out the paint thinner and a putty knife to make it happen. Each tile has an adhesive back that can be reused multiple times and stuck on everything from the fridge to the toilet (for target practice, of course).
Flybrix
Flybrix's "crash-friendly" DIY Lego drone kits come with everything needed to launch a four-, six-, or eight-propeller drone with limited aviation knowledge and no tools. The Legos, propellers, motors, circuit board, even the pilot are in the box; just plug and play. You can even use the bricks already scattered around the house to build a giant jumbo drone and/or finally get that Lego Millennium Falcon off the ground and on its way to Alderaan.
Brixo
Brixo are Lego-like construction blocks that provide electricity to animate your kid's Brickenstein. They're painted in shiny, non-toxic chrome and powered by built-in, low-voltage batteries. Connector Blocks form wire-free circuits into which Action Blocks are embedded to deliver LED light or motorized movements. Trigger Blocks, meanwhile, are added to activate said movements via light, sound, and motion sensors. All combined, Brixo makes helicopter rotors spin, fire engines light up, sharks shoot frickin' lasers — anything you can think of to make those Legos come alive.
MeeperBOT
MeeperBOT is essentially a remote-controlled Lego accessory baseplate on wheels that lets your kids drive any Lego creation around the kitchen while you're making dinner. And naturally, they do said driving using a smartphone app. MB runs on a single nine-volt battery, syncs via Bluetooth, includes two rear-wheel 300 RPM motors, and comes in eight colors.
GoBrix
GoBrix by ThinkGeek are remote-controlled building bricks with simple motors designed to bring compatible toys (Lego, K'Nex, KRE-O, and Mega Blox, for example) to life. They keep it simple: a tiny motor inside a brick, into which you can insert wheel axles, robot arms, or whatever you want to move, easily activated by a push-button remote. And yes, the remote is also Lego-compatible, so you could snap together a remote-control remote in what would be one of the more gratuitous dad jokes anyone could make using only Lego. Even better, they're pretty damn inexpensive.
CoasterDynamix
Having already mastered the art of creating miniature working replicas of iconic amusement rides, the good folks at CoasterDynamix are on to a new challenge: turning those models into Lego-compatible, brick-based construction toys. First up, Coney Island's famous Cyclone. The 1,000-piece kit (targeted at ages 14+) includes the track, the train, and a hand-crank chain lift to make that sucker move (although it works with Lego Power Functions like motors and batteries too, if your fingers get tired). It measures about four feet in length and can be combined with multiple kits into one giant badass coaster.
TinkerBots
Technically, TinkerBots are an independent set of interlocking bricks and modules for building simple robots. But that shouldn't deter you; they also make a Lego accessories brick adaptor to bridge the two worlds. TB's come with a powerbrain (Li-Ion battery, speaker, gyro-sensor, Bluetooth, etc.), motion modules (motor, pivot, twister, grabber), sensors (light and distance), bricks, and wheels. Robots can either be controlled via smartphone app or with some crazy simple programming; as in, press the "Record" button on the powerbrain, make the robot move how you want, and then hit "Play." That's it. It'll repeat every motion you just 'taught' it.
Walking Dead And Game of Thrones Minifigs
Since your kids probably (hopefully?) aren't watching either of those shows, these custom mini-figurines from Demonhunter Bricks are really for your desk. And that's cool. They sell all your favorite characters (Daryl and Daenerys, of course) with weapons, either individually or as a complete set.
Itty Bitty City
This Lego add-on seems to have it all: sensors, buzzers, motors – the list goes on. You can build models and code to make them do exactly what you want. And don't worry – it's coding made easy. Your kid can use Scratch, a language that allows you to code in blocks on the screen instead of complicated lines of text. If Junior is more advanced, they can use and learn the coding language Arduino. Get ready to have your Lego adventures seriously upgraded.
This article was originally published on