The 8 Best Learning Towers For Your Little Helper
We only recommend products we love and that we think you will, too. We may receive a portion of sales from products purchased from this article, which was written by our Commerce team.
by Lauren Beach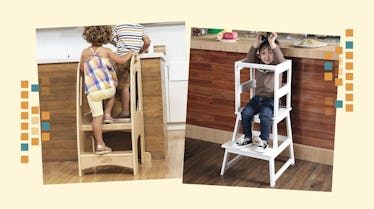 From helping prep dinner to doing science experiments and more — kids need a safe spot to focus on the task at hand without teetering on a chair or you having to hold them. The best learning towers are an easy alternative that bring kids up to counter level to watch, learn, and help. With that in mind, investing in a learning tower isn't just for special bonding with your little one, it's also keeping them safe when it counts.
What To Consider When Shopping For A Learning Tower
First of all, you may be wondering what the difference is between a learning tower and a kitchen helper. While some models may be handier in a kitchen, there are no structural differences between learning towers and kitchen helpers. Call them whatever you want, just keep these features in mind:
Height: The height of the standing platform varies widely among learning towers. Choosing the perfect learning tower for your child involves a little math: Consider their height and the height of your counters to determine what height you need. Some models begin with a modest 12-inch boost, while most start off 15 inches from the ground. Many kitchen helpers allow you to adjust the standing platform; some have as many as four different heights. One of our picks below gives kids a 22 inch-boost from the ground, which works well for younger or shorter children and homes with higher-than-average countertops.
Material: With the exception of one lightweight plastic option, all of our picks below are made of wood, bamboo, birch-based plywood, or a combination of these materials. The more substantial weight of wood means they will stay in place, but also be heavier to move around and more expensive. Several models have been GREENGUARD Gold Certified.
Age and Weight Limits: Most learning towers are designed for children that are at least 18 months old. Some models cap off use at a certain age or weight. Weight limits vary widely, from 60 pounds all the way up to 220. For your convenience, we've noted this for each learning tower.
Safety Rails and Walls: All learning towers have some form of safety rail on at least three sides to keep kids in place, and most have a wall or rail on all four sides. Some models make use of safety netting (known as keepers) for two of the walls for easy entry. You may prefer three walls for older, more stable children who use the opening to easily get in and out themselves.
Storage: The overall size and footprint of learning towers can be daunting for those with a smaller kitchen or bathroom. There are several models on the more compact side and some even fold flat, so you can easily store them when not in use.
Gather your ingredients, get ready to pass down your famous recipe, and let your little helper get their hands dirty with one of the best learning towers below.