The 26 Best Last-Minute Gifts On Amazon Prime To Bail You Out This Holiday
Free 2-day shipping means zero apologies.
by Dave Baldwin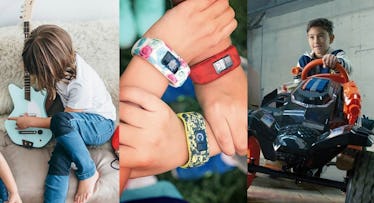 You honestly meant to get all your holiday gift shopping done before Thanksgiving, but then a month passed and here you are on the brink of getting your kids some festive Slim Jims and pine tree air fresheners. C'mon, you're better than that … and you have free 2-day shipping. To make up for lost time, here are last-minute gifts from Amazon Prime that will arrive wrapped on your doorstep. Because your kids still have plenty of beef jerky left over from last Christmas.
DC Super Hero Girls
This new generation of wondrous women is inspired by classic DC heroes, who are all honing their powers at a special school. Give some little Bat Girl or Harley Quinn (if they're more Suicide Squad than Justice League) one of these, and she'll be on her way to a standout college application. Under accomplishments: "Successfully defended universe from forces of unspeakable evil."
Hideaboo Hideouts
These illustrated slip covers slide over ordinary card tables (the kind with the folding legs), turning them into cool-looking forts in a matter of seconds. No pillows, no sheets, no taping giant cardboard boxes together required. They come in 4 themes — Happy Camper, Submarine, Enchanted Castle, and Outer Space Rocket — and also feature a puppet backdrop in case your kid wants to reenact MacBeth with My Little Ponies.
Modarri
The chassis, tires, and other elements of Modarri cars are interchangeable across the entire product line. It even uses real springs and linkages in their independent front and rear suspensions. So, between teaching your kid real-life car fixin' stuff and letting them feel the road when "driving" with their fingers, you'll have ample excuses to keep them away from the real thing for as long as possible.
Star Wars: Rebellion
Parlay the family's excitement from a holiday screening of Rogue Nation into a evening of Star Wars board games. Released this year, Rebellion is an epic battle between the Galactic Empire and Rebel Alliance. "Epic" means it spans multiple star systems across 2 game boards and includes 150 plastic miniature pieces that you can fly around. Because someone has to show the kids how the Battle Of Yavin should have gone down.
Ages: 14+Players: 2 – 4
Vivofit Jr
Garmin's Vivofit Jr. is a fitness tracker for the recess set. It gamifies exercise (because kids won't do it unless it's fun), counts steps, notes how much Junior sleeps (or pretends to sleep), and tallies the number of minutes he spends each day not playing Super Smash Brothers. All of these actions earn rewards points. Inactions earn them another lap.
NERF Battle Racer
The NERF Battle Racer is a 4-wheeled mutant Big Wheel designed to let your kid go mini-Mad Max all over the neighborhood. Check out the 2-blaster storage brackets in the front, and 2 in the rear. There's also extra dart storage between the 2 front guns and in driver's seat compartments, 3-point steering, and a handbrake. Unfortunately, with a weight limit of 110 pounds, you'll have to find your own ride to Gas Town.
LittleBits Gizmos & Gadgets
LittleBits are electronic building block kits full of buttons, triggers, switches, wires, batteries, motors, LEDs, and more (the "Bits") to encourage your kid (the "Little") to invent all the things. This kit was dubbed "The ultimate invention toolbox" because its 60+ parts can create 12 included inventions — among them a "Bubblebot," pinball machine, and RC car — plus hundreds more online. All those hours of creativity and distraction should excite you more than a little bit.
Tentsile
Make your kid's treehouse dreams come true with no-technical-skill required hammocks and tree tents inspired by the Ewoks from Return Of The Jedi. (Star Wars always has the answer.) Tentsile tents fit 2-6 people, and adding a hammock creates a multi-level outdoor living space. Everything is reinforced and secured by heavy duty materials for safety, stability, comfort, and the greatest view of the neighbors' yards you can get without a drone.
Peppa Pig & George Wiggle Giggle
These talking versions of your kid's favorite book/cartoon characters, Peppa and Baby George snort, giggle, and wiggle (as well as kick their legs and swing their arms). They also blurt out phrases like "I'm Peppa Pig" and "You're my best friend." Your kid will adopt the faux-English accent in no time.
Hot Wheels AI
Hot Wheels AI is a next-gen race car set that uses artificial intelligence to keep the vehicles on the track. Driving is done with a video game-style controller, and you can even launch virtual hazards (ex. Spy Hunter-style oil slicks) at your opponent. Speaking of opponents, you don't even really need one — the other car will drive itself.
Raden A22 Carry-On Luggage
The Raden A22 is a carry-on built like a battering ram that can be located anywhere in the world via a smartphone app that works about a thousand times better than the airline's own luggage tracking system. It can also charge your phone 4 times with its 7,800mAh battery — coincidently, in the same amount of time it will take all those people in front of you to take off their shoes and belts.
Fujifilm Instax Smartphone Printer
This second iteration handheld printer from Fujifilm shoots out credit-card-size, 320 DPI images from your smartphone or social media via the corresponding app and a decent Wi-Fi connection. And, like your kid eating ice cream, it does so with remarkable speed — 10 seconds a picture! Jazz up your shots with fancy filters and color adjustments, as well as templates that let you do stuff like split pics in 2 or create collages way better than those your third grader keeps bringing home.
Toymail Talkies
If your kid is too young for their own phone but still needs to leave important messages for friends, parents, stockbroker, etc., Toymail Talkies are adorable stuffed animals that send and receive voicemails to a pre-programmed networks of phones or other Talkies. If your 4-year-old is asking for an iPhone 7, this will more than suffice.
OXO On 12-Cup Coffee Brewing System
It's Christmas morning — and you need coffee stat. The On has a lot of fancy bells and percolators, like a microprocessor-controlled brew cycle for a perfect carafe. It's also one of the Speciality Coffee Association Of America's 10 certified home brewers (and those guys are snobs). The only thing better would be a live-in barista — but that gets awkward, fast.
Xyloba
Xyloba matches construction with music but forgoes the brick people singing about how awesome everything is. Instead, modular, interlocking wooden blocks, ramps, and tone bars form marble runs that produce different melodies as the marble strikes the chimes. There are 3 complexity levels, and kits with instructions for playing specific songs. But, since everything is interchangeable you can give your kid anything and let them build until you can't take any more glockenspiel.
Tie-Not Water Balloon Filler
Wonderful come summertime (and kind of deadly in the winter), this balloon-holding nozzle ensures your kids don't spend half the water fight fumbling with latex while dodging incoming fire. The Tie-Not's a simple 2-piece device that attaches to the garden hose and can fill/tie off a water balloon in 3 easy steps — or 6 seconds flat with a little practice.
STIGA Snowracer FSR GT
Many sleds can race down a hill, but only one can call itself a snowracer. Literally, STIGA owns the trademark. Your kid will look X Games-ready atop this bad boy, especially considering it's capable of this. (Might want to invest in a decent helmet while you're at it.) They'll also likely learn the a valuable lesson: just because you're gripping a steering wheel doesn't mean you're going to avoid that tree.
EZE Cold Brew Coffee Maker
Essentially the same shatterproof plastic water bottle you're already toting around in your messenger bag, but with a removable filter. Add coffee grounds (or tea leaves) to the built-in compartment, fill with water, and toss in the fridge for 8 to 12 hours. Or not. It brews just the same on the kitchen counter! Either way, you're waking up to coffee that's ready to hit the road well before your kids are.
HP Powerup Backpack
From the outside, the HP Powerup is a handsome, nondescript gray canvas backpack with reinforced leather handles. But open it up and prepare to be … electrified (note: It won't really electrocute you). Inside the front pocket, there's a single 22,400mAh/84Wh battery that can charge up to 3 devices, multiple times: A laptop (once), a tablet (3 times), or your phone (10 times).
Batman Viewmaster
Your old Viewmaster in now a safe-for-kids-to-drop Google Cardboard virtual reality headset that holds any 6-inch (or smaller) smartphone. And that popular Batman: The Animated Series cartoon you watched religiously in middle school? It's now a VR game with the same voices, villains, and locations. The only difference is that you (and eventually your kids) get to fly the Batwing, go on missions, and help save Gotham.
Loog Guitar
These 3-string beginner guitars make playing music easy without dumbing down the sound. Every one includes a printed guide and link to the Loog Academy app for more lessons, and comes unassembled because damned if every toy isn't a building toy. Truthfully, they do that to strengthen the bond between player and instrument, or the bond between father and child learning how it felt to assemble their IKEA bedroom set.
Seedling Maze
At first glance, Maze is a modern-day refresh of the old marble game, except now players get to design their own mazes using the removable magnetic walls. But, what happens when your kids get bored tilting that maddening marble back and forth? They get inside the maze! Scan the real wooden board into the iOS app, change the theme to spaceship, a kingdom, or ancient ruins, and use the included virtual reality viewer to start exploring. (Can't find their way out? Lift up the viewer.)
Sphero SPRK Edition
SPRK does all the app-controlled spinning, jumping, and R2-D2 attitude-flipping that the original Sphero does, but ups the ante. Get kids start coding without any prior experience by dragging and dropping visual blocks in an app. And the transparent shell lets them see how their programs actually work — so you can stop joking it's powered by the world's smartest hamster.
The Rap Year Book
This book will teach you everything you need to know (or should have already known) about your favorite songs and emcees. Starting in 1979, each year's most influential rap song is explained, illustrated, and infographic-ed, proving that not every picture book is a children's story. Except for the page about Slick Rick's "Children's Story."
Tegu
They're wooden blocks. With magnets. That's it … almost. Tegu kits promote every developmental stage, from classic free assortments to horses, stunt choppers, Evel Knievel roadsters, robots, customizable companions called Blockheads, and on-the-go pouches. And they're do-gooders — their wood is hand-picked by Honduran cooperatives and they plant 983 new trees for every one they take. Do you do all that, alphabet blocks? No, you do not.
Anaxi
A rare word game that is both educational for kids and wildly entertaining for adults, Anaxi is a competitive vocabulary lesson for family game night that uses Venn diagrams — those things you kind of remember from high school. Basically, it's a timed games where you have to write down words with overlapping qualities. For example, Brown + Furry + Hilarious = Alf. The smarter the answer, the higher the score. Play continues for 5 rounds and whoever possesses the strongest vocabulary wins. Or it is whomever?
Ages: 8+Players: 2 – 6
This article was originally published on