The Ultimate Guide to Thoughtful Last-Minute Christmas Gifts
Must-have items that you can still order online and get delivered just in time for Christmas.
by Fatherly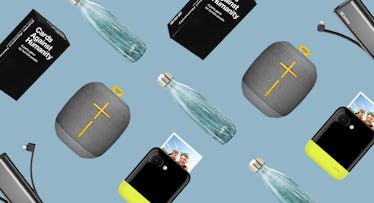 So, you haven't gotten your Christmas shopping done yet. Maybe the long lines seemed too intimidating or you couldn't find the time or you grew up to be a selfish adult just like your mother said you would. Whatever the reason, have no fear: There's still time to purchase gifts online and get them delivered just in time for Christmas. Every item in this roundup of the best last-minue Christmas gifts can be delivered in two days or less, plus, they're all must-have gifts that a friend or loved one will be so happy they got, they wouldn't think twice that you'd be sweating about what to get them just days earlier.
Polaroid POP
The fun of Polaroid cameras gets a 21st century, digital update with this mobile Polaroid camera and instant printer. Complete with an LCD viewfinder touchscreen, WiFi and Bluetooth connectivity, and built-in flash, the Polaroid POP is a fun way to print photos on-the-go.
UGG Classic Sherpa Throw Blanket
The makers of arguably the world's comfiest shoe put their efforts towards creating an equally-comfy blanket. The 100% polyester Ugg Sherpa Throw Blanket is a great soft addition to a bed or couch, and it's got a reverse side for extra warmth.
Cards Against Humanity
The classic "party game for horrible people" has spawned countless ripoffs, but there's only one original set to make you feel like a terrible human being in the most fun way possible. The infinitely replay-able set comes with 500 white cards and 100 black cards.
LittleBits Droid Inventor Kit
The littleBits Droid Inventor Kit is a fun, educational way to expose a child to electronics and robotics. After building and customizing their very own droid, kids can teach it new abilities and reconfigure the parts to create a completely new invention.
Osaka Pour-Over Coffee Brewer
Pour-over coffee is becoming more and more popular as a brewing method to control factors like taste and strength better than other brewing methods. Osaka's brewer comes with a glass carafe and stainless steel filter to create the best-tasting coffee.
Amazon Prime Subscription
Give the gift of any gift. An Amazon Prime subscription offers free two-day shipping on over 50 million items, plus access to all of Amazon's original content on Prime Video. Subscriptions start at $33 for three months, but you can also purchase 12 months for $99.
Apple TV 4K
Apple TVs have practically became necessary accessories for their wide array of apps featured, like Netflix, YouTube, and more, and their easy-to-navigate interface. The new Apple TV 4K ups the quality by featuring faster performance and a Siri-enabled remote.
Blue Bottle Subscription
Everyone could use more coffee in their life. Everyone. Luckily, Blue Bottle Coffee's gift subscription lets you send a changing selection of whole bean coffee blends to anyone for any amount of time. While standard 3- or 6-month subscriptions are offered, you can customize your own delivery schedule.
Therm-a-Rest Slacker Hammock
Summer might feel a ways away, but a friend or loved one will get lots of use out of Therm-a-Rest's durable, portable hammock when the weather turns. The Slacker is big enough for two adults, and easily stuffs into a small, attached pocket when not in use.
Pooch Selfie
Most dog owners have been there: you try to take an adorable photo with your pup but they won't look at the camera, or they just get distracted and run off. This smartphone accessory is a clip-on squeaky ball that gets your dog's attention trained on your phone's camera for the perfect pooch selfie.
Duo Plus Instant Pot
The Duo Plus Instant Pot effectively replaces a slew of kitchen appliances by serving as a pressure cooker, rice cooker, slow cooker, steamer, and more all in one. With a large, blue LCD interface, it's easy to use the Duo Plus to automate your cooking.
Tile Slim
Losing your keys or wallet sucks. Luckily, Tile Slim is a thin, easy to use method for tracking down any pesky lost items. Tile Slim is thin enough to slide into a wallet, and small enough to hang off a keyring. Its accompanying smartphone app tracks Tile wherever it goes, and can even make it ring when it's nearby.
Jackery Bolt Portable Charger
Customized for iPhones, the Jackery Bolt Portable Charger offers twice as fast charging as regular iPhone charging cables. Compact, durable, and long-lasting, the Jackery Bolt works with all iPhones with lightning connectivity, including the 6, 7, 8, and all Plus models.
Ultimate Ears WONDERBOOM
Few portable speakers offer as many features as the Ultimate Ears WONDERBOOM. Not only is it portable and Bluet00th-connected, but it's also waterproof and can play music for over 10 hours off of a single charge. The sound quality won't be great at the bottom of a pool, but it theoretically could work just fine down there.
MIRA Travel Water Bottle
This sleek sports bottle is designed to sustain serious drops without breaking and long-term use without rusting. The not only keep water cold, but also insulate hot liquids on-the-go. MIRA travel water bottles come in a variety of designs to fit any personality.
This article was originally published on