The Best Kids Water Bottles They'll Actually Use
These BPA-free water bottles are perfect for any activity.
by Ben Radding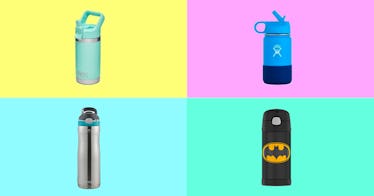 Parents have always struggled to goad their children into drinking water. Amid the screaming and running and crying of play-dates, any dad might worry about the hydration level of his kid. Well, if there's anything we've learned over the years, it's that the cooler-looking and more user-friendly the kids water bottle, the more water a child will actually drink. Gone are the days of bottled or pouched water from the supermarket; filtered water is readily available from your kitchen sink, at airports, and at many schools. So what water bottle is best? Like your own personal favorite, there's no shortage of options claiming to be the best water bottles for kids.
The best kids water bottles (and what your child will use) should be easy to open and close and sized just right for their hands. There are thermos-like insulated kids' water bottles, which keep drinks cold longer, and plastic water bottles, which are lighter and simpler for them to handle. Some can be paired with a slew of different lid types, depending on your child's sipping or gulping preference. More importantly, whatever bottle you choose has to be as leak-proof as possible, because you don't need the drama of a soaked backpack. With so many great kids water bottles available, you'll soon forget what it was like to badger your child to drink and more time chaperoning them in public bathrooms.
The Best Water Bottles for Kids 2021
Every product on Fatherly is independently selected by our editors, writers, and experts. If you click a link on our site and buy something, we may earn an affiliate commission.
This article was originally published on