The 10 Best Kids Sprinklers For Your Backyard
It's mythical backyard magic.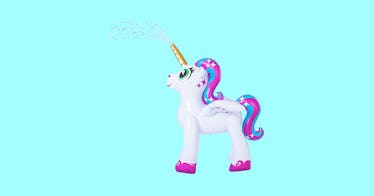 This summer, instead of spending a fortune at a water park, load up on a few lawn sprinklers, sit back, and watch summer magic unfold. Nothing entertains kids better than a sprinkler. (Except for maybe a unicorn sprinkler.)
The best thing about kids sprinklers is their hours of work to hours of entertainment ratio. Lawn sprinklers are the rare kid's activity that's low maintenance and high reward. Just attach a hose, maybe do some inflating, and you can keep kids busy for hours. No batteries, no rules, no clean-up. Something about water squirting out of a sprinkler just transforms a backyard and provides days of fun. The best sprinklers might even get your kids off their screens and willing to engage with the great outdoors. These are the best kid's sprinklers, from rainbows to unicorns and beyond.
Kids Unicorn Sprinklers
Fun Inflatable Sprinklers
Kids Lawn Sprinklers
Every product on Fatherly is independently selected by our editors, writers, and experts. If you click a link on our site and buy something, we may earn an affiliate commission.
This article was originally published on