The Best Obstacle Course Games & Races For Kids
Zip-lines, cargo nets, and other equipment to build an obstacle course for your kids.
by Dave Baldwin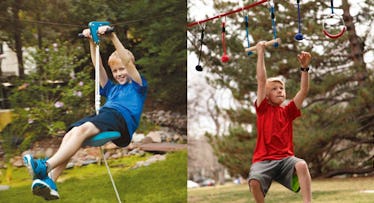 Once reserved to boot camp and PE class, obstacle courses are enjoying a moment. Thanks to popular races like Tough Mudder and Spartan, not to mention American Ninja Warrior, people are obsessed with climbing walls and running through fire. And it's not just adults. There are now officially full-blown games and obstacle courses for kids, like the Kids Obstacle Challenge, that stage races across the country.
RELATED: World's Biggest Inflatable Obstacle Course Is A Bouncy House For Adults
But even if your small human isn't clamoring to hit the CrossFit gym to flip tires and work on his Parkour jumps, backyard obstacles courses can still be a ton of fun — not to mention a great way to keep kids active, occupied, and more likely to be exhausted during those long school-less days. To that end, here are toys, games, and obstacles ⏤ from cargo nets and rope swings, to slack lines and monkey fists ⏤ to help turn your patch of grass into an epic adventure.
Beginner Slackline
A slackline is basically a length of nylon webbing anchored to trees, poles, or what have you. Yet while it looks like a standard tightrope, the line's tension is such that the line has some bounce and give to it. This makes walking across more difficult — but also allows users to bounce high and bust out insane mid-air flips. Set up for your kids (and surrounded by some cushioning on the ground because, yes, they will fall) this 48-foot nylon line offers serious beginner fun. Not only does the special trampoline-style, two-inch webbing have stability and slight spring but the safety ratchet ensures you don't spend more than 10 minutes setting it up.
Cargo Net
No obstacle course is complete without a basic training-style climb up a swinging cargo net. This eight-foot ladder is made of nylon rope and wooden dowels, can hold up to 150 pounds, and is designed for kids ages three to 10. Only catch? You'll need to mount it to an existing play structure or climbing wall.
b4Adventure NinjaLine
Monkey bars not enough of a challenge? This 30-foot training NinjaLine includes seven individual hanging obstacles and can hold up to 250 pounds (or eight average six-year-olds). Some of the main features include three nylon rope Monkey Fists, a two-piece Monkey Bar Hold, and a couple of gymnastics rings with textured grips. All attach using carabiner clips so the spacing can be adjusted as kids get more skills. After a few weeks of climbing and swinging on it, your kid will start to have the grip strength of a spider monkey.
Slackers Zipline Hawk
Let's be honest, the idea of installing a 70-foot zipline in the backyard ⏤ even if it had nothing to do with an obstacle course ⏤ is pretty damn rad. Put it in the middle of your epic Kid Mudder course, however, and you'll be a neighborhood legend. This galvanized steel line is easily installed between two trees, comes with an adjustable seat trolley, and can hold a max weight of 250 pounds in case you want to get in on the action.
Rope Swing
Sure, you could use this 6.5-foot rope with multiple step platforms as a climbing obstacle. That's technically it's main purpose. But wouldn't it be more fun if you dug a mud pit, some wet sand, and let the kids swing over it. Of course, it would.
Popup Tunnel
Every obstacle course needs a tunnel. But rather than contact the local water company about buying sections of old rusty pipe, consider a couple of these six-foot nylon tubes instead. Not only are they easy to clean mud off of with a damp rag, but they collapse flat for easy storage between your summer series of Spartan challenges.
Banzai Aqua Blast Obstacle Course
What better way to end the course than by weaving through a tire jump, leaping over inflatable water-spraying hurdles, and then hurling oneself down a giant 16-foot slip 'n slide through the finish line? There isn't. It's the perfect finish.
Climbing Holds
Before you invest in all that climbing gear, stick these holds – sized for tiny hands – on a tree or a wall outside and let them go full Spider-Man. They come in a four-pack, and hardware for installation does not come with the purchase. But that just means you'll have another project to work on with you kid.
This article was originally published on