The Best Hockey Equipment And Training Aids For Kids
From strap-on skates to stick-handling pucks, here's the hockey equipment kids need to get ready for the season.
by Brendan Charles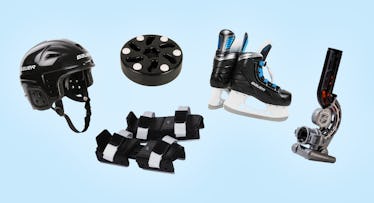 Of all the youth sports to learn as a kid, hockey is one of the toughest (also one of the most expensive). Not only do they have to learn to how to balance on a sheet of ice wearing little more than two thin blades, but they're supposed to pass, shoot, and handle a hockey stick, too. It's crazy hard, and it takes a lot of time, practice, and patience ⏤ both for young skaters and their hockey parents.
RELATED: The Three Most Expensive Sports for Kids
Luckily, there's a lot of good hockey equipment and training aids out there to help youth hockey players get better. From strap-on skates for first-timers, to easy-to-adjust helmets and practice pucks, to ice-imitating shooting boards for the kid who wants to spends all summer in the garage working on their stickhandling skills. There's something for all levels and all ages. Here's a list of the best hockey equipment for kids that will help get your future hall-of-famer ready for the season.
Double Runner Strap-on Skates
If your kid's too young to fit in a pair of hockey skates, these adjustable strap-on blades attach to the bottom of their boots or shoes. They're double bladed so balance isn't an issue, and they allow your kid to get comfortable on the ice before graduating to real skates. Just make sure to keep them tight and check that the screws are secure. Other than that, you're good to go.
Skateez Skate Enabler Ride On
Think of the Skateez as training wheels for hockey skates. They attach to any regular pair of single-blades and allow for a smooth transition from double-bladed trainers to full skating independence. As your kid improves their skills, the Skateez can be loosened and eventually removed completely. Just don't wait too long — no team wants to draft a defenseman who still skates in trainers.
Bauer Lil' Sport Youth Hockey Helmet
Unlike normal hockey helmets that require superhero strength to snap the chin strap, this has an easy-to-attach clip that even your kid can connect. Plus, this hockey equipment for kids has an adjustable switch on the back to make it looser or tighter depending on the size of your child's noggin. So while it offers the look and protection of an adult helmet, it's been specifically designed to make your life as parent easier in the locker room.
Bauer Prodigy Youth Hockey Skates
Don't fall for the Spider-Man or Frozen skates in the store, no matter how good your kid's sales pitch ⏤ they're not recommended or even allowed in some classes/leagues. The hard plastic shell gets cold faster and the snaps unbuckle too easily. The Bauer Prodigy hockey skates, on the other hand, provide excellent support for your kid's foot and come with different sized inserts so they can grow into them. Just remember to dry the blades after getting off the ice.
CCM RBZ Speedburner Mini Sticks
These hockey sticks are miniaturized versions of the CCM pro model so your future Gretzky can feel like they're playing in the big leagues. They measure 17-inches, come in left/right variants just like a real hockey stick, and are made of composite, not hard plastic or wood.
Sonic Sports Inline Hockey Puck
It's easy to default to using a hockey or tennis ball in the earlier years but learning to hit the top corner with a puck is a lot harder. The beauty of these street hockey pucks is they glide across the driveway (or any moderate-to-smooth surface) the same way a real puck slides across ice. They're also lighter than an actual hockey puck so your little one won't struggle to get these biscuits moving down the asphalt.
Franklin Sports NHL Light Up Street Hockey Goal
This hockey net is more of a toy than anything else but when kids are young, making the game fun is the most important goal. The hockey equipment will give your child the instant gratification of scoring and will help reinforce the idea of aiming at the net. Enjoy it while it lasts though, as it won't hold up against slap shots from advanced players.
Green Biscuit Shooting and Stick Handling Pucks
There are actually two different hockey pucks in this combo pack: the lighter Original is designed for practicing passing and stick handling and slides more easily across rough surfaces. The Snipe, on the other hand, is a bit heavier and made for shooting. And while the Sonic Sports puck noted above is great for playing street hockey games, these Green Biscuits are meant for honing your kid's stick agility and finesse.
EZ Puck Shooting Board and Passer Combo
Designed for summer hockey training, this sleek 24-inch x 48-inch board simulates the feeling of real ice and allows your kid to shoot, pass, and practice their stick handling skills right in the garage. Not only that, but with the passer they can bounce the puck back and forth off the rubber band, practicing their pass reception, before firing off a shot on net.
Franklin Sports One Timer Hockey Passer
Perfect for feeding passes when mom and dad are in the penalty box, this puck passer holds up to 9 full-sized street hockey balls and shoots them out at a decent speed so your kid can practice their one-timers. The hockey equipment is battery operated so you can take it on the go and even has an LED to indicate the pass is coming.