The Best Kids' Hiking Boots and Hiking Shoes
Whether you're heading to the Himalayas or simply stomping around your local woods, these hiking boots have the support and stability your kids need.
by Doug Schnitzspahn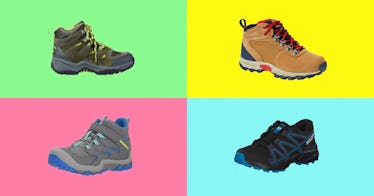 There's nothing better than a family hike, but if you want to make it farther than the trailhead, you're going to need to shod your budding outdoorsman or -woman with a pair of kids hiking boots or hiking shoes. Whether you're headed deep into the wilderness in a trailer or around the neighborhood park's gravel loop, the best kids hiking shoes will let your youth safely wander and roam over uncertain terrain.
When selecting a pair of hiking shoes or boots for your child, first note how they're going to be used. Is he or she the type to yo-yo between you and what's around the next bend? Or is your child more likely to hang by your side—likely the case for toddlers? For the former, consider a light-and-fast trail shoe, and for the latter, a solid, waterproof boot may be more appropriate. Other factors include the ruggedness of the terrain, the amount of precipitation you expect, and the heaviness of a pack. The more extreme for each of these, the more a traditionally built boot may be appropriate, while the less of each of these, a lightweight trail runner would work. Also fit the shoe a little long — from a half- to a full thumbnail's width between the end of the toes to the end of the shoe, or a half to a full size longer than their normal length — to reduce the possibility of blisters. Finally, don't neglect a good pair of kids socks, which wick moisture away and do their part to prevent blisters. The mountains, paths, and trails are calling, and with your son or daughter, you must go.
The Best Kids' Hiking Boots and Shoes
Every product on Fatherly is independently selected by our editors, writers, and experts. If you click a link on our site and buy something, we may earn an affiliate commission.
This article was originally published on