The Best Kids Bookshelves and Book Storage for Kids Who Love to Read
These bookshelves look good and keep that ever-expanding book collection organized.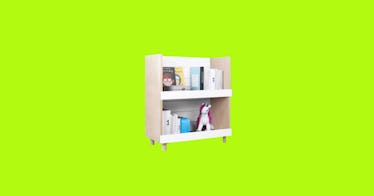 As parents well know, kids books seem to multiply when you're not looking: baby shower books, birthday present books, picture books from the local bookstore — the list goes on. This is mostly great: There's not really any such thing as too much reading for a kid, considering how much it advances language acquisition and comprehension skills. But books need space, and they belong in a kids' bookcase. Which is why having the perfect kids' bookshelf is so important — to stow the books away and to look good doing it. Book storage that is good-looking and easily accessible to kids makes the reading area of your kid's room pleasant and can create positive associations with books and reading. The best kids bookshelves we found not only provide ample space for your kid's ever-growing collection of books, but are also easy for kids to use and fun to look at.
Every product on Fatherly is independently selected by our editors, writers, and experts. If you click a link on our site and buy something, we may earn an affiliate commission.