The 10 Best Kids Activity Books
From playing with colors to learning science, pick up one of these kids activity books for your next long car ride.
by Ben Radding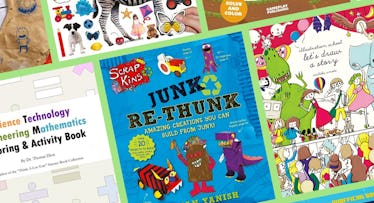 We've all been there — at the airport, on the road, or at a restaurant with a seriously bored child. Sure, you can turn to the TV, iPads, and video games to keep the kids entertained, but they don't do much for their brain. If you're looking for something a little more engaging, pull out an activity book, where the kids can dive into word searches, coloring, or other crafts.
When you're sifting through activity books at the store, it's important to look for one that will engage your kid. "I would recommend finding books that can increase focus," says Dr. Ashley Taylor, clinical psychologist at The Center for Connection. "Look for books that have that extra components that builds those brain-based executive functioning skills and require a little bit of extra mental energy, like memory games"
RELATED: The 11 Best Subscription Boxes for Kids
More than just engaging to them, says Dr. Edward Hallowell, author of The Childhood Roots of Adult Happiness, it should be engaging to you. "Does it interest you?" he asks. "Take yourself back to when you were a kid. Would you want to do these activities? Or, does it seem school teacher-y, like a workbook instead of an activity book? You want your kid to get excited about whatever he's doing. That's the whole point of it."
We took it all to heart, and rounded up what we think are the best kids activity books.
ALSO: The Top Magazine Subscriptions for Kids
Sticker Activity ABC
Particularly if your kid is on the younger side, Taylor loves sticker books because they help develop motor and memory function—plus teach them about the world. Whether it's animals, or certain environments, like jungles or under the sea, sticker books have themes. They're all learning things from that," she says. This one gets kids to learn the alphabet as they find the stickers and match it to a word. Perfect learning opportunity.
STEM Coloring and Activity Book
STEM jobs are on the rise, so if your kid is showing some interest, get 'em started early. This activity book is filled with facts, coloring areas, and fill-in-the-blank slots that keep your child learning about how the world works. It's a good way to introduce your child to a subject that they may spend their life loving.
This Is Not Another Maths Book: A Smart Activity Book
Math? Maths? What's the difference when you have an awesome activity book on your hands. It's no secret that kids hate math, but this one makes it fun and engaging with colorful puzzles, geometric patterns, and anamorphic art your kid will obsess over. Talk about engaging and learning.
Amazing Activity Book for Minecrafters
Kids are crazy about Minecraft—but that doesn't mean they have to be on the computer to enjoy it. This cutting-edge kids activity book takes them into the modular world without staring at the screen with pages filled with spot-the-difference panels, mazes, and word challenges that will keep your kid's nose to the page for hours.
Word Search for Kids
Future author on your hands? Then plop this in front of them and see them go. Each puzzle contains a hint or two, making it easy for your kid to learn hundreds of new words. See their vocabulary soar—and their grammar marks increase week-by-week.
Illustration School: Let's Draw a Story
Kids have more ideas than they know what to do with. Let them let it out with this incredible kids activity book from Japan that allows your child to finish the story with a set of characters with their own drawings and sketches. You kid will not only fill in the lines, but explore their own internal world (and practice their crafts).
Amazed
With this one-of-a-kind activity book, your kid will learn more than just how to color between the lines—they'll learn empathy. They help a lost boy get back to his friends in a series of puzzles and mazes that are drawn both elaborately and beautifully. It's the must-have maze book a first-grader would love.
ScrapKins: Junk Re-Thunk: Amazing Creations You Can Make from Junk!
Let your child's imagination run wild with this monster-themed kids activity book that lets them learn how to make new things from old ones. With blueprints and instructions for all sorts of little creatures, you kid will interactively take junk and make it into something amazing. Creativity is important—but learning the importance of recycling? Priceless.
The Wimpy Kid Do-It-Yourself Book
Your child is the author and illustrator of their own adventure. The Wimpy Kid Do-It-Yourself Book is filled with interactive pages and adventures that help kids learn independence and inspire creativity. From writing to drawing to puzzles and games, this kids activity book has a little bit of everything.
The Round the World Quiz Book
This kids activity book by the Lonely Planet pops with color and provides over 500 tricky questions about the world we live in. It's perfect for parents to play along with their kids and may even stump you, with three levels to the queries: newbie, rookie, and genius. Not only will you both learn at the world at large, but you'll bond in a new, profound way.