The Best 'Jurassic World' Lego Sets That Won't Eat Your Money
Including one with a T. Rex that towers over three unfortunate mini figs.
by Jordan Obey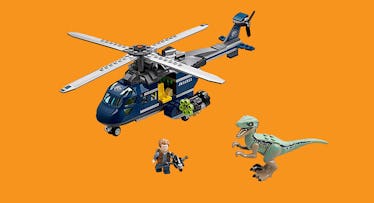 Dinosaurs are having a moment right now. So it's not surprising, with the recent release of Jurassic World: Fallen Kingdom, that Lego would get into the action. The company announced the release of new dino-inspired sets back in February and they looked pretty awesome. Now that they're officially on store shelves, we can verify that they are. Here's a look at the coolest five sets based on the movie that won't break the bank.
LEGO Jurassic World Carnotaurus Gyrosphere
This 577-piece packs a lot of punch for $80 and includes everything from a gyrosphere (those transparent balls Chris Pratt and Bryce Dallas Howard run around in during the movies), truck, and trailer, to three mini figurines, a baby dinosaur, and a not-baby Carnotaurus. And in the spirit of the Jurassic World franchise, you can mix-and-match the dinosaur parts to play God and laugh in the face of nature.
LEGO Jurassic World Blue's Helicopter Pursuit
Two of Jurassic World's central characters ⏤ raptor trainer Owen (played by Chris Pratt) and actual raptor Blue (played by a bundle of computer generated graphics) ⏤ come with this set. The Blue figure also has posable limbs so pretending that she's running at raptor speed shouldn't be an issue.
LEGO Jurassic World T. Rex Transport
The T-rex that comes with this 609-piece set stands over 6-inches tall and towers menacingly over the three unfortunate mini figures that are included. It also comes with a trailer truck and second smaller dinosaur.
LEGO Jurassic World Stygimoloch Breakout
Stygimolochs are the hardheaded dinosaurs that ram whatever is stupid enough to get in front of them. With relatively few pieces (it includes 222), kids as young as 6 years old won't have a problem putting this $30 kit together.
LEGO Duplo Gentle Giants Petting Zoo
Designed for small toddler hands, the 24-piece Duplo Gentle Giants Petting Zoo includes a Gray Mitchell figure plus two baby dinosaurs, a Triceratops and a Diplodocus.
Every product on Fatherly is independently selected by our editors, writers, and experts. If you click a link on our site and buy something, we may earn an affiliate commission.
This article was originally published on