The Best Jeans For Men to Upgrade Your Style
These pairs will last you years — and, if you keep a few simple rules in mind, will fit like a dream.
by Nicholas McClelland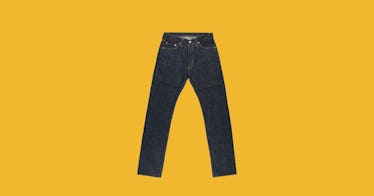 Timeless and eminently versatile, a great pair of men's jeans should be an anchor of every guy's wardrobe. Whether you're into the raw selvedge style or want something a little on the softer side, getting the fit right is crucial when selecting you go-to jeans for men. Fit is essential. It's what takes a pair of jeans from meh to man, where'd you get those?. According to Matt Kong of Bay Area denim-maker Gustin, "the seat and waist should fit snug when new and the legs should look clean to complement your silhouette without looking baggy."
Remember, when you're trying on jeans — or pretty much any other pants — they are going to stretch out as you wear them. "When looking for denim, I always seek out a pair that is understated in look and will wear nicely," says Taylor Stitch co-founder Mike Maher. "A slim — not skinny — leg won't eat your shoes and should leave a bit of room to breathe. They should fit snug when you first pull 'em on but you shouldn't be struggling to get your hands in your pockets."
You should have a few pairs of jeans in rotation. While blue and black are classics, any number of colors and washes can look great (Though we think it's wise to avoid the '80s acid iterations unless you plan on leaning against a parking lot Camaro anytime soon.) It's also always good to have a pair of unexpected jeans in the rotation. "I like to have a pair with a classic deep indigo hue in the perpetual rotation because they will just get better with every wear to the point of sweat-pant comfort," Maher says.
If you're looking to upgrade your current selection of jeans, here are the pairs we stand behind.
Best Jeans for Men
These five-pocket jeans for men have a standard slit fit, with a low rise and a slim-straight fit through the leg. And because they're made with an unwashed indigo dye, it's up to you to give them your unique wear and tear. They're also very slightly stretchy for extra comfort.
These rugged jeans sit a bit below the waist. They're relaxed through the ass and thigh, and have a straight leg opening that fits easily over boots.
The denim has the slightest stretch to it, for increased comfort. There's a slight fade through the legs to make them look less, well, new. And they have a 13 inch leg opening.
You want a decent pair of everyday jeans, without all the frills or tricked-out styling? These are your jeans. They're close in the seat thigh with a 15 inch leg opening and a 35 inch inseam.
Denim-heads rave about Japanese selvedge looms, because no two pairs of jeans are exactly identical and in general, the fabric quality is head and shoulders above much of what you find elsewhere. Case in point are these PRPS straight leg jeans, which have a zip fly with button closure. The denim is thick and on the stiffer side, so make sure you give them time to break in.
You want these relaxed-fit jeans because you'll never look like you're trying so damn hard. They go everything. They look good on everyone. And they have a nicely broken-in look and feel.
These men's jeans feature 3D whickering, grinding details, and the brand's signature horseshoe stitching on the back pockets. These have a 34 inch insteam, and you'll have these forever.
These double beltloop skinny jeans have stretch to them, and, as the name indicates, will be much more snug than their relaxed brothers. So pay special attention to fit with this pair.
Damn, we love these jeans. They sit at the waist, with a regular fit through the thigh and a straight leg opening. Pair these with a simple crewneck tee for a outfit look that never looks dated.
These men's jeans are fade-resistant, due to how they're dyed. And with them, you get a slim tapered fit. They're medium rise, slim through the thigh, and taper down from the knee to the hem.
These slim-cut men's jeans are stretchy, only no one can tell. Meaning you're investing in extreme comfort, and flawless style. The inseam is 34 inches.
Every product on Fatherly is independently selected by our editors, writers, and experts. If you click a link on our site and buy something, we may earn an affiliate commission.
This article was originally published on