5 Excellent Bottles of Japanese Whisky You Can Actually Find
Due to demand, many Japanese whiskies are hard to find in the U.S.. These five excellent options are not.
by Nicholas McClelland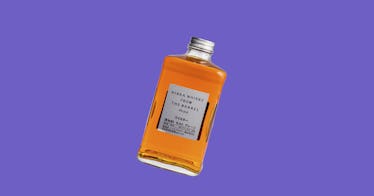 If you're a fan of Japanese whisky, you may have noticed it's getting harder and harder to find at your local liquor store. Of course, it's because there is a shortage. Whisky takes a long time to age and producers simply did not foresee the world-wide demand for Japan's finest brown spirits.
Major producers' stocks have been so depleted they have had to discontinue some of the expressions that helped land Japanese whisky on the map. Suntory has phased out Hakushu 12 as well as Hibiki 12 and 17, while Nikka has almost totally done away with age statements on its bottlings.
In a decade or so, changes producers are making now will help the supply catch up with our lust for their bottles and we may even see the return of age statements and some discontinued icons. In the meantime, there is still good stuff out there. Here are five Japanese bottles you should still be able to find at your local shop.
Nikka Yoichi Single Malt
Peat-like smoke imparted from the Hokkaido distillery's coal-fired process echos whisky you might find in Scotland. But Nikka Yoichi Single Malt is half a world away from Scotch. Flavors of citrus, kiwi, ginger and a touch of leather make it a luscious dram and one of our absolute favorites.
Suntory Toki
A blend of malt and grain whiskies from Hakushu and Chita and Yamasaki, Suntory Toki is a bright, flavorful whisky with notes of apple, pear, citrus, honey, and a touch of spice. Toki was designed not just for sipping but also as a cocktail anchor, so you can give it a spin neat, on the rocks, or in a high ball. And remember: For relaxing times make it Suntory time.
Yamazaki 12
Hard to find, but still on a enough shelves that you can source a bottle if Yamazaki 12 if you put in a little effort. If you do your toil will be rewarded. It's a buttery malt, supple in the mouth and rich in flavors or orange, spice and a succulent melon.
Hibiki Harmony
It's heartbreaking but its become nearly impossible to find a bottle of Hibiki with an age statement. However the brand's Harmony whisky is a fairly common sighting on most good liquor store shelves and it's lovely. Notes of apricot, dried fruits, honey and a gentle floral undercurrent should land it on your bar.
Nikka From the Barrel
New to the U.S. market, Nikka From the Barrel hit the our shores earlier this summer and is already in high demand. This 103 proof blend is big flavorful whisky at a quite reasonable price point. Toffee, fruit and spice swirl around a big, pleasant dose of heat from the higher alcohol content. Yum!
This article was originally published on