6 Bottles of Irish Whiskey You Need to Know
Blends, single malts, and more excellent bottles from the Emerald Isle.
by Nicholas McClelland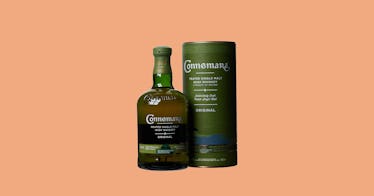 If you're a whiskey drinker, chances are you've given Irish whiskey a shot before and then washed it down with a beer back. The Jameson shot-and-beer combo is ubiquitous as Gaelic-themed watering holes and dive bars that serve them. And for good reason: the original is light, sweet, and extremely approachable, especially as part of an eight-dollar-pairing with a pint of Guinness.
But if Jameson, or its kissing cousin Bushmills, is as far as your exploration of Irish whiskey has gone, its time to take another look. From blends and single malts to the traditional Irish single pot still expressions, the Irish whiskey bench is deep, well rounded, and worth discovering. Here are six bottles of emerald Isle gold you won't need to find the end of the rainbow to try.
Connemara Single Malt
Peated whiskey is a rarity on the emerald isle. In fact, there is only one Irish peated single malt on the market. But if you enjoy a healthy dose of smoke in your dram you're going to love Connemara. Vanilla, fruit, malt and wood play off the smoke and a lingering brine to create a lovely mouthful.
Redbreast 12
Traditional single pot still whiskey is made from a mash of both malted and un-malted barley. It's a uniquely Irish style and Redbreast 12 is the epitome of that heritage. Aged entirely in Oloroso casks, its a fruity, complex dram with a lingering spiced warmth that will leave you smiling long after the glass is empty. If you like it, we also suggest you give the Cask Strength a shot. It's bigger and bolder. Like the original on growth hormone.
Tullamore D.E.W. Caribbean Rum Cask Finish
Yo ho, ho and a bottle of rum… well, sort of. To create their Caribbean Rum Cask Finish, Tullamore D.E.W. takes the original recipe – a triple blend of pot still, grain and malt whiskeys – and finishes it in Guyanese Demerara Rum casks giving the resulting spirit a tropical twist. Banana, dried fruit, vanilla and rich caramel flavors make this a whiskey you'll want to experience neat.
Teeling Single Malt
A relatively new brand on the Irish scene, Teeling is already cranking out some of Ireland's best whiskey and we love their Single Malt expression. The brand takes whiskey aged in ex-bourbon casks and finishes it in five different types of wine barrels – sherry, port, cabernet, white Burgundy and Madeira. The resulting dram is soft, supple, fruity and a mouthful of fun. With every sip you can try to suss out the influence of each of the barrels used in the aging process.
Knappogue Castle 16
This Irish single malt spends its first 14 years in ex-bourbon casks and then completes the aging process Oloroso sherry wood. The result is a deliciously balanced dram with nutty notes and a fruity sweetness that should land it at the top of your shopping list.
Jameson 18
For loyalists, Jameson makes several expressions other than the original. Our favorite is the 18 Year Old Limited Edition. This Jamie spends nearly all of those years sleeping in sherry casks with a short six month finish in bourbon barrels. The fruity notes from sherry play off they vanilla and caramel imparted from bourbon wood making the 18 a deeper more luscious dram than the Jameson your bartender keeps in the well.
This article was originally published on