The Best iPhone Cases for Kids That Will Protect Your Phone
These durable cases will take a beating but keep your iPhones intact.
by Jon Gugala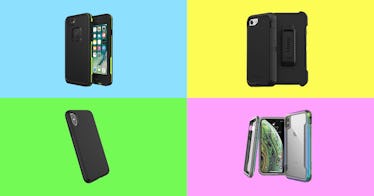 Even if kids have tech of their own, they'll want to paw at your phone. To ensure the screen isn't stricken with a spiderweb of cracks, you need one of the best iPhones cases for kids. Really these are the best protective iPhone cases period—adults are already capable of destroying the thousand-dollar mini-computer we carry around in our pockets without the kid's help. But children do have a penchant for dropping things no matter how often you remind them to be careful. Until you get them a phone of their own, upgrading to the best kid-proof iPhone cases for the 6, 7, 8, X, XR, 11, and 12 pays for itself the first time someone drops it off the counter or on the street.
Consider one of these cool, protective cases cheap insurance against the tiny, often clumsy kid fingers. If you've passed on AppleCare and don't opt for your carrier's insurance, you could be looking at dropping at least $130 to repair a cracked iPhone screen. The functionality and aesthetics of cases have come a long way in the last few years. Now they preserve the phone's clean lines and rely on shock-absorbing polymers to keep it safe without adding bulk to your pocket. Some come with a screen protector, applied as a sticker or attached to the case, while others use raised edges to keep the touch-sensitive screen off surfaces like a table.
No matter what iPhone you're rocking, from an older 6 that refuses to die to the newest 12 with the advanced cameras, you'll want to keep it covered.
Every product on Fatherly is independently selected by our editors, writers, and experts. If you click a link on our site and buy something, we may earn an affiliate commission.
This article was originally published on