The Best Indoor Gardens and Herb Garden Kits for Families
by Emily Kelleher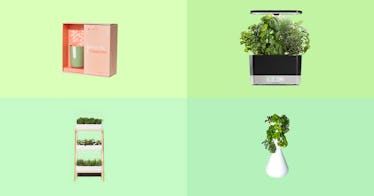 Gardening is a great way for kids to see nature in action and learn where their food comes from. While you once needed a yard (and good weather) to grow strawberries or basil, innovative garden kits have made gardening possible for more people. Kids who live with little or no outdoor space can now tend to indoor gardens any time of year and watch how dirt, light, and water magically morph seeds into food that they can harvest and eat for dinner. Indoor garden kits and herb garden kits give kids the opportunity to care for something, and when kids are involved in food preparation, they gain a sense of ownership, making them more likely to try new things, even weird vegetables.
The idiot-proof self-watering indoor garden makes this process even easier, especially for parents who don't have the time, space, or the green thumb, to do, say, raised beds. These planters take the guesswork out of gardening, distributing just the right amount of water for optimal growth. Some even come with their own lighting systems, so you don't have to parse what really constitutes partial or indirect light. Just add seeds, fill up a water reservoir, plug it in, and watch your plants thrive. Keeping something alive has never been so easy, rewarding, or delicious.
The Most User-Friendly Indoor Gardens
The Low-Cost Starter Indoor Garden Kit
The High-Tech Indoor Garden Kit
The Most Celebratory Indoor Garden Kit
The Most Hard-Core Indoor Gardens
Every product on Fatherly is independently selected by our editors, writers, and experts. If you click a link on our site and buy something, we may earn an affiliate commission.