Best Home Security Camera Systems
Is that a raccoon digging through your trash? These top-rated security cameras keep you in the know at all times.
by Donna Freydkin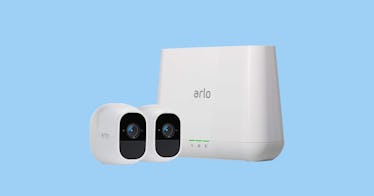 Part of creating a home for your kids is making sure they feel safe there. And the simple truth is that if you don't feel safe they won't feel safe. And while you could install a dozen front door locks and bars on the windows, there are less extreme ways to secure your home. In fact, one of the best tools you can use to secure your domicile is a home security camera. There's no better way to keep an eye on things at home no matter where you are, and today's cameras are cheaper and easier to access than every before.
When shopping for a home security camera, you want to evaluate the quality of the video, making sure that it can get a solid picture no matter the lighting conditions. Facial recognition is a great bonus because it's nice to know immediately if that stranger ringing your doorbell is that annoying but harmless neighbor from down the street or someone sketchier. If your home has an Alexa- or Google Assistant-equipped speaker, voice control is also nice, and geofencing, which automatically turns cameras on when you leave the house with your phone and off when you come back, is another great feature that can cut down on the storage space and electricity your camera consumes.
Home security cameras have gotten way cheaper over the years, but now that you can afford one how do you know which one is right for you? We scoured Amazon reviews and compared all those fancy features to help you decide on a home security camera system that will keep your family safe and your mind at ease.
Pros: These cameras include motion detection and the ability to store HD footage in the cloud for free. It's all powered by two lithium AA batteries that last a whopping two years. That means no electrical wiring to worry about, so you can mount these bad boys wherever you want.
Cons: Blink cameras are water-resistant, not water-proof, so there's a nonzero chance they fail if you put them in a place where they'll be battered by thunderstorms.
Pros: The Amazon Cloud Cam showcases what happens in 1080p Full HD, and you can download and share the last 24 hours' worth of goings on around your home. You get notified when the camera detects activity (watch out, trash-digging raccoons or package thieves), and you can watch anytime via the mobile app. It has night vision and works seamlessly with Alexa (of course). Oh, and you'll be notified if your kid has a tantrum.
Cons: Some customers complain that Amazon rushed this to market, resulting in poor picture quality and dicey audio in some instances.
Pros: The Nest has a built-in mic, so if you get an alert that there's something going on at home, you can communicate with the person making the delivery. Plus, it takes still photos of unexpected events, like your kid slamming his bike into the garage door or throwing a basketball at the window. It can also communicate with your other smart home devices and run your appliances if you so desire.
Cons: The subscription service to access your photos over the long term is expensive. Otherwise, you only get three hours of storage.
Pros: You get mobile alerts when doors or windows open and when motion is detected inside the house. It's fully expandable, meaning it can monitor as much, or as little, space as you want. It works with Alexa, enabling you to arm, disarm, and check the status of your security system. The setup is simple out of the box.
Cons: The product is fairly barebones, as it is now, and some customers expect more bells and whistles. So if you want something fancier, look elsewhere.
Pros: Use Alexa to launch real-time video using your voice so you can speak to visitors (or freak them out). The Ring floodlight alerts you as soon as it detects motion and you can activate a siren through your phone to scare away unwanted guests. And once your kid's old enough to have a curfew, it's a great way to catch them breaking it without staying up to all hours of the night.
Cons: This is not a plug-and-play toy. It requires a hardwired installation to weatherproof electrical boxes so it can work outdoors. If you're not feeling confident about your own wiring abilities, you'll need to hire an electrician to do the job.
Pros: It can operate in the cold (32 degrees) and the heat (up to 122 degrees). It's got night vision, it operates either on batteries or via a power chord. You get seven days of free cloud video recording, so you can have your very own week in review. Oh, and best of all? You can live-stream video as you so wish. It works with Alexa and Fire TV and Google Assistant and Chromecast so you can watch video on your TV using a voice command. Seriously, does it get any easier?
Cons: Customers complain that the Arlo 2 randomly goes offline for no discernible reason.
Pros: This wireless sensor notifies your phone if a window or door opens or closes when you're away from home. It's compact, wireless, has a long lasting battery and is super-easy to set up. So now, you can stop freaking out and wondering if you got the plane while leaving your bedroom windows wide open.
Cons: You get peace of mind, but not much else, unless you upgrade to the full Hive Hub, which lets you set up a smart home system that controls lights, temperature and can schedule your lights to go on and off when you're out of town.
Pros: This well-reviewed camera has the features you need in an outdoor camera. It's waterproof and comes with motion detection and night vision that captures 720p video when you need it day or night.
Cons: You have to hardwire the power for this thing, which can be tricky on the exterior of your house.
Our indoor camera pick:
Pros: You can spy on your kids. Let me repeat: You can spy on your kids. So when Dylan is playing Fortnite instead of reducing fractions, you can call his bluff via footage delivered right to your phone. You get an alert every time your Wyze notes sounds or motion, and you get 14 days of saved alert videos, all for free. It's small, handy and sneaky.
Cons: It's not weatherproof, so keep this camera indoors, please.
Every product on Fatherly is independently selected by our editors, writers, and experts. If you click a link on our site and buy something, we may earn an affiliate commission.
This article was originally published on