The Best Home Safes & Gun Safes For Families
These five highly-rated options will keep all your irreplaceable items as protected as possible.
by Hudson Lindenberger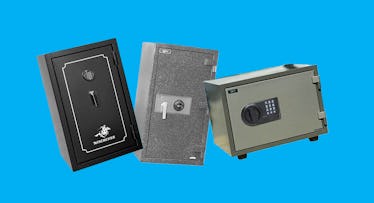 Family heirlooms. Important paperwork. Those Gold doubloons you happened upon. We all have items that need to be stored securely. Enter the home safe. While it does seem like a bit of an anachronistic device in the age of digitized everything, a lockable, fire-proof safe is essential one that's worth the cost.
"It's funny, most people will not think twice about spending several thousand dollars on a new refrigerator to protect their food, yet balk at spending money on a safe," says Nancy Bryan, the Co-Owner of Maximum Security Safes who has been in the home security space for more than two decades. "Yet a safe will protect their most valuable heirlooms and possessions, items that are often irreplaceable."
Today's models are as smart and secure as ever, able to withstand everything from burglary tactics to hours in a blazing fire. But, as there are so many safes to choose from, what do you look for and which best fit your needs? Here's our guide.
What to Know About Buying a Home Safe
First things first. When looking for a home safe you want to check out their security and fire rating as well as — and this is very important — if their claims are verified by independent agencies.
"Look for safes with third party verification of both burglar and fire protection," says Bryan. "Just because it's called a safe doesn't mean it will provide reliable protection." Bryan also recommends having one with at least one hour of fire protection tested by ETL or Underwriters Laboratory (UL), and a UL security rating of RSC (Residential Security Rating — it can withstand a typical home burglary).
The next thing is what kind of locking mechanism the safe has. Digital locks, she says, rated "high security" by UL are very convenient to use, provide good security, and are reliable. Old fashioned mechanical, tumble style locks are also very secure but not as easy to use. Biometric, fingerprint access locks are also available but the ones you'll actually want cost more than $1,000 extra.
Lastly you need to know where you are going to install the safe and how much space you need. It's very important that any safe you get, especially a smaller one, can either be bolted into concrete or secured to a wall to ensure thieves don't tear it out. Plus, size matters. Bryan suggests buying bigger than you think you might need. It might cost a bit more but she says that most safe dealers have wiggle room to work with, you just need to haggle with them
With this in mind, here are five home safes to look into.
The Best Home Safes to Buy
Best Affordable Home Safe for Documents: American Security Products FS914E5LP Fire Safe
If your primary concern is protecting valuable documents, not the family jewels, then Bryan says this is a great option to install. Not much larger than a microwave, it fits into numerous tight spots, yet offers a high level of security for the price. The steel body and ½ inch-thick door, along with the electronic control will repell most thieves and it is rated to one hour of fire resistance up to 350 degrees. Inside there is 1,107 cubic inches of space and an inner sliding tray to allow ease of access to your important papers and such. "This is a good safe for protecting documents from a fire," says Bryan. "Its one-hour fire protection is verified by UL." At only 96 pounds, this is the lightest safe on the list and could easily be carried away if not secured.
Best Affordable Home Safe: American Security AM2020 Burglar and Fire Safe
An affordable steel safe that comes with an electronic lock, a three-way set of locking bolts, and a spacious interior that will work well storing documents, guns, and jewelry. The powder-coated blue outside lends it a sophisticated look, with a dry walled lined interior wrapped in a gray fabric to store your stuff in. It comes equipped with 4 precut anchor holes to secure the 180-pound safe ensuring it cannot be carted away. "For the budget conscious this safe offers 30 minutes of fire protection and will keep thieves out," says Bryan. She does caution against looking upon this safe as a long-term solution, instead it is a great beginner safe for those just getting introduced to them.
The Best Home Safe For Small Spaces: Winchester Home 7
If you don't have much space to work with, then this is the ideal safe. With almost seven cubic feet of interior safe it can fit important documents and smaller valuables, plus its dimensions (30 inches tall, 20 inches wide, and 20 inches deep) means it will easily fit into a closet to keep put of sight. It comes equipped with an electronic pulse resistant electronic lock that activate 6 steel locking bolts offering superior burglar resistance, and it can withstand 1400 degrees for one hour. It only weighs 220 pounds so you should install somewhere where you can bolt it down. "If you are on a tight budget but want a quality safe that will protect your valuables this is the one," says Bryan. "It has enough room for an array of valuables and is highly rated by independent testers."
The Best Mid-Sized Safe: American Security AMSEC BF3416
This mid-sized safe from American Security offers a three and a half inch thick door with a solid half-inch of plate steel hardening the center to thwart would be criminals. That alone in impressive, but when you toss in the solid steel body, three one-inch thick solid-steel chrome plated locking bolts, and a full length dead bar lock to prevent door removal, you know anything inside is secure. Inside, there are adjustable shelves and almost nine cubic feet of space inside. You can choose the style of locking mechanism you want, from a dial to an electronic push button. And, at 690 pounds you don't have to bolt it down. It's U.L. certified for one hour of fire protection. "This safe will last you your entire lifetime, it's that well built," says Bryan. "It's easy to use, super high quality, and has a ton of steel in its construction."
Best Luxury Home Safe: Casoro Emerald
At 60 inches tall, this safe offers you the ability to store just about anything — jewelry, documents, rifles. When you order it, you can customize the interior with up to 11 separate drawers, with shelves at eye level, and even a necklace panel that runs the length of the door. You can even configure one of the drawers to auto wind your watches. As for access you can choose one of three different controls to gain access to the safe and three different levels of security systems to be installed. It has five locking bolts, is highly rated for theft prevention, and, once locked is rated for two-hours of fire resistance.
https://casorojewelrysafes.com/product/emerald/
Every product on Fatherly is independently selected by our editors, writers, and experts. If you click a link on our site and buy something, we may earn an affiliate commission.
This article was originally published on