The Best Holiday Gifts For the Guy Who Has Everything
What do you get the guy who seemingly has everything? One of these gifts he'll never see coming.
by Jon Gugala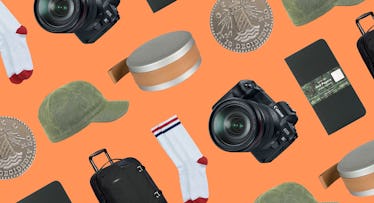 When you're shopping for holiday gifts, there's always that guy. The one who seemingly has everything already. He's trouble to shop for, especially because you don't want him to open a gift, say thanks in that way that makes you realize he already has it. This list is built to help you avoid that. Thanks to a slew of new releases, one-time ungainly machines, and the changing of the seasons, it's the perfect time to ambush this guy with the thing he doesn't have — or even know he wanted. So take a look and thank us when he unwraps the present with complete and utter surprise.
Breville Oracle Touch
Listen, kitchen space will always be at a premium, which means that if you're adding a countertop appliance, you'd better make it worth it. The Breville Oracle Touch provides for its space and then some. Grinding beans in an internal conical burr grinder, it delivers 22 exact grams of your preferred espresso roast to create café-quality espressos, long blacks, lattes, flat whites, and cappuccinos. Bonus: It's fully customizable, allowing you to change and save up to eight different user settings for coffee strength, milk texture, and temperature. All this, and at a size a little over a cubic foot.
James Brand The Hook
With key hook offerings as common as autumn leaves, we loved how James Brand's The Hook distinguished itself by both keeping our keys handy and adding a few extra uses. The laser-etched ruler has come in handy half a dozen times in the few weeks we've owned it, while everyone loves the guy with the bottle opener. While all three finishes have their place, we love this option's brass-like light gold hue.
Timbuk2 Never Check 4 Wheel Spinner
A weekender seems like the classy decision—at least until you arrive at PDX at one end of the terminal and have 15 minutes to make your connection on the other side. Better get a run on with the uber-practical Timbuk2 Never Check 4 Wheel Spinner. This rolling bag fits perfectly in the overhead while cinch straps ensure no one's sticky fingers are getting into your stuff. Front pockets provide quick access to segregated items.
Taylor Stitch The Maritime Shirt Jacket
Shoulder seasons are no match for the Taylor Stitch The Maritime Shirt Jacket. Crafted from a fifty-fifty blend of wool and polyester, it's more durable than a piece made entirely of the former and more water resistant that one entirely of the latter. Use it in place of a sport coat or jacket, layered over your normal button-down.
J.L. Lawson & Co. The Decision Maker
Sometimes a choice is the flip of a coin. J.L. Lawson & Co.'s The Decision Maker is a handsome way to do so. Made from solid German black iron forged in the U.S., it's an everyday carry item that's sure to settle a few bets.
West Major Classic Western Shirt
Upstart West Major takes the classic Western button-down and gives it both a modern fit and a modern fabric. We were amazed with how much better it wears, with wrist-covering sleeves, a trimmer chest, and tails that are equally at home tucked in or out. Nevertheless, it has all the wildness of the original Westernwear, which has defined the region's luminaries for decades.
Tivoli Audio Andiamo
The classic Italian styling of the Andiamo by Tivoli takes the country's classic leather style and outfits cutting edge tech. This wireless speaker, housed in an aluminum body, pumps out rich, balanced sound that fills the room or outdoor picnic location. Its leather strap easily hooks onto the drop bars of your single-speed.
Canon EOS R RF 24–105mm F4 L IS USM Kit
While plenty of other companies have released their own mirrorless camera systems, Canon has bided its time, choosing October to finally debut its offering to the space. The new R mount system allows its lenses to be markedly shorter and lighter while still capturing tack-sharp images at an enlargement-friendly 31.7 megapixels. On the video side, shoot vibrant 4K while watching through the rear touchscreen LCD. Packing a lot into a slight package, the body weighs less than a pound and half.
Field Notes 'End Papers' Edition
Field Notes usually creates its pocket notebooks with its papers secured via embroidery down the creased spine. Its "End Papers" quarterly release forgoes this for a proper book binding, making it feel both more official and like the end is coming. You'd better write well.
Cole Haan GrandPrø Running Sneaker with Stitchlite
Incorporating its Stitchlite knit upper, Cole Haan blends classic running style with the future in its GrandPrø Running Sneaker. Super light and responsive, they nevertheless look cool enough to wear out at night. Rubber pods in the outsole's toe and heel provide a touch of traction in an otherwise nimble package.
Otis James Camper
Otis James may be a GQ favorite when it comes to bespoke Nashville neckwear, but over the past five years he's steadily made a name for himself in his real area of passion: hats. The Camper, made from waxed cotton, features a canvas-stiffened brim for subtle shape. But it's still a hat that you can take out to the river while wearing it during the week on the way to the office.
American Trench Kennedy Lux Athletic Socks
Patterned after the same sock that appears in a classic JFK photo, American Trench's Kennedy Lux Athletic Socks add a touch of class to the casual Saturday. Made from American-grown Supima cotton, the buttery strands were woven at AT's Pennsylvania factory, creating a product that's both classic and easily adaptable to today's footwear.
Fishpeople Sweet + Smoky Original Wild Alaskan Salmon Jerky
The best, most nutrient-rich salmon in the world comes from far north in the Yukon, where Fishpeople has set its nets. Partnering with indigenous fisherman, it catches and processes these fish, providing local jobs to the impoverished area while simultaneously creating a pipeline of flavor straight to the Continental U.S. Its Sweet + Smoky Original Wild Alaskan Salmon Jerky combines wild salmon with a light Pacific Northwest Alderwood smoke and a brush of sweetness, all while delivering 24 grams of protein and 900 milligrams of Omega-3s per bag.
This article was originally published on