Best Hiking Socks to Prevent Blisters
We found the best men's hiking socks for all your outdoor activities.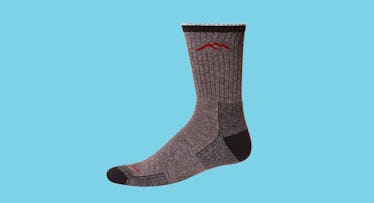 If you want to tackle the wonderful outdoors, you need the right socks. That's because it's pretty much impossible to be comfortable when your feet aren't, particularly when you're in the middle of a family hike. And while sweaty, stinky feet are an annoyance that can ruin your good time, the real problems begin when you develop pulsating, painful blisters on your feet. That's why any and every successful hiking trip begins with a high-quality pair of hiking socks.
Because while a comfortable backpack, quality jacket, and the right pair of hiking boots are important, socks are the most important piece of gear you'll bring on any hike. They keep your feet warm and dry and serve as your first line of defense against the destroyer of all outdoor pursuits.
"The most important issue that good hiking socks address is moisture management," says Alyson Stone, a manager at Neptune Mountaineering in Boulder, Colorado. "When your foot gets wet, it causes either your socks to get caught up inside the boot, or your skin to start sliding around. Either way, that friction causes blisters."
That's why a well-crafted pair of hiking socks offers extra protection under your heel and toes and arch support. They're also strong enough to handle the abuse that inevitably will come their way as you explore the great outdoors. Great hiking socks are often made mostly from merino wool, which offers superior moisture wicking and great temperature management in most weather conditions, or from a synthetic blend that works well in warmer climates and can keep foot odor at bay. These are some of the best you can buy.
Pros: Made with fine-gauge knits, this blend of nylon, polyester, acrylic, and lycra spandex will keep your feet cool in the warmest of temperatures. The fabric keeps odors at bay for several days and will dry out fast if needed.
Cons: Designed for warmer weather so you might have issues in colder climates.
Pros: The outer shell is nylon with some elastics. The inner sock is merino, acrylic, and nylon. In between, there's a porelle membrane, a waterproof breathable material that makes these socks waterproof and therefore great for hiking even in less than ideal conditions.
Cons: You have to wash these socks by hand, a less convenient solution than just tossing them in the washing machine with the rest of your stinky gear.
Pros: The brand's innovative elastic nylon design across the top of your foot holds the hiking sock in place after hours on the trail. Thicker padding under the heel and forefoot keep those parts comfortable, while thinner fabric elsewhere ensures your foot can breathe while encased inside your boots.
Cons: Durability has been an issue in the past for Smartwool. The company has shifted manufacturing lately, but only time will tell if consistency improves.
Pros: These beloved socks fit just right. They are comfortable, well-made, and help stop your feet from sweating and smelling.
Cons: They tend to run small, so if you're on the fence, go up a size.
Pros: You get a wool blend that will effectively keep moisture at bay while providing superior comfort. These hiking socks are engineered with air channels and reinforced toe and heel cushioning to keep your feet happy.
Cons: One of the more expensive pair of hiking socks out there, so only consider these if you're regularly on the trail.
Pros: The price is hard to beat, particularly when you get socks that fit this snugly and have reinforced heel and toe areas for increased durability.
Cons: Some folks have found these socks to be itchy, so it might be best to steer clear if you have sensitive skin.
Pros: This hiking sock is made from two sock layers knitted together to ensure no hot spots or blisters when you are out on the trail. As a non-wool sock, it will keep your feet feeling fresh on the hottest of days.
Cons: Its cushioning is light, so it's not great for lightweight boots or trail runners that don't offer much support on their own.
Pros: These innovative socks can go inside any pair of hiking socks you have to add an extra layer of protection when on the trail. They snugly hug your feet and toes to wick moisture away, and keep you comfortable. At the end the day, they dry quickly so you can use them again the next morning.
Cons: Wearing a liner is an acquired taste and might feel uncomfortable to some hikers.
Pros: Extra padding underfoot means less fatigue at the end of the day. This is a completely synthetic hiking sock made with nylon, acrylic, olefin, and lycra spandex. Its moisture wicking is superb. It comes up to the mid-calf, so it should work with any boot.
Cons: These can run small, so you might want to order one size up if your foot toggles between sizes.
Pros: Made with a high amount of merino wool — we're talking 80 percent and not the usual 60 percent found in other winter socks — these hiking socks will withstand the coldest of temperatures. The weave it tight, and the extra material in the toe and underfoot means they are comfortable, and no blister should form.
Cons: These are really only a two-season socks due to their construction. When the weather gets warmer, they'll likely cause undue sweating and discomfort.
Every product on Fatherly is independently selected by our editors, writers, and experts. If you click a link on our site and buy something, we may earn an affiliate commission.
This article was originally published on