The Best Starter Gear to Take Kids Hiking For The First Time
There's a big difference between carrying a toddler in a backpack and setting them loose on the trail next to you.
by Berne Broudy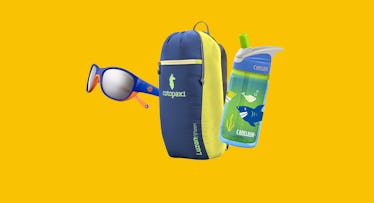 It's one thing to take a baby or toddler hiking in a backpack carrier and quite another to set them free on the trail alongside you. And not just because the walk is about to get a whole lot slower. Bringing toddlers and young children hiking can be a fun family activity, but it's not one without challenges ⏤ namely, keeping them engaged, moving, and most important, comfortable.
And while, no, you don't have to outfit your young hiker head-to-toe in the all-wicking fabrics from your favorite outdoor store, they do need gear that both fits properly and gets them excited about the outdoors. You'd don't want to give them any reason to stubbornly park on a felled log and call it a day. Good shoes/boots and socks are most important; blisters and sore feet can end a hike early. Let your kid wear a pack if they want to ⏤ doing so is often a good way to get them engaged ⏤ but keep it light, limiting cargo to snacks, a puffy jacket, a small water bottle, kids headlamp, and maybe a toy. Don't make them haul the tent. And finally, protect their skin and eyes from sun (and bugs) with a proper hat, buff, and sunglasses.
As for what's the best kids hiking gear out there, it's often a matter of preference ⏤ specifically, the kids. But that said, some gear is obviously better than others. Which is why we took a look at the top current offerings ⏤ from hiking boots and sun hats, to wool socks and kid backpack ⏤ and selected our favorite starter equipment to ensure kids love hiking from the moment they first step on trail.
RELATED: The Best Hiking and Camping Backpacks for Kids
Keen Kids Hikeport Strap Waterproof Mid
A boot that's as comfortable for playing in the park as it is for hiking trails, Keen's Hikeport WP is trim, light, and waterproof. The Velcro closure makes it easy for kids of all ages to get it on and off themselves, though Keen also makes both a low-cut and a lace-up version. The padded collar and tongue prevent hot spots on little ankles and shins, and you'll be happy about the non-marking outsole when Junior wears them while playing tag in the house.
Darn Tough Via Ferrata Jr. Micro Crew Cushion
There's no reason kid's hiking socks should be any less fun or functional than yours. These are seamlessly knitted from merino wool, which is naturally odor resistant and wicks moisture away from the foot. They also include a lifetime guarantee, so if your child proves stronger than the socks, Darn Tough will replace them.
Junior Buff
Designed to keep the sun off off tiny necks, Junior Buff's fabric tube not only is quick drying but protects against 95 percent of harmful UV rays. And because it's seamless, it's comfortable to wear under a hat ⏤ although there are actually 12 ways to wear it, from headband to hat to balaclava. The best part, at least for kids, is that they come in tons of fun prints including Frozen, Cars, and Mickey and Minnie Mouse.
Cotopaxi Kids Luzon 15L
An easily compressed pack made from repurposed Nylon, this bag doesn't have a frame or waistbelt to weigh it down. It has a draw string closure top, Nylon shoulder straps, and is easy to take on and off at every stop on the trail. Or, if your kid decides they're done carrying it, you can toss it right inside your own pack. A front zipper pocket lets them separate valuables from cargo, and the bright colors make it fun to wear.
Julbo Luky/Lucy
Protect your kid's eyes with Julbo's Luky or Lucy sun cheaters. Not only do Spectron 3+ lenses block harmful UV rays, but a flash finish on these glasses give them a mirrored look that further blocks sunlight and improves visibility without letting harmful rays through.
Camelbak Eddy Kids Insulated .4L
Grownup bottle meets sippy cup, this double-walled drink-hauler won't get wet with condensation while keeping water or juice cold. The bite valve is easy for adults to remove, but it won't pop off in little hands. It's 100% BPA, BPS and BPF-free and comes in prints so fun you'll wish Camelbak made them in bigger sizes. Even better, it's dishwasher safe once you're home from the hike.
Outdoor Research Kids Solstice Sun Bucket Hat
The UPF 50+ soft Nylon fabric on these sun bucket hats protect kids from harmful UV rays while the moisture-wicking headband keeps them cool. Outdoor Research uses dark fabric under the brim to reduce glare, and the hat has eyelets for venting and cinch-cord loops to help keep it in place. Plus, it comes in a variety of colors and prints for every personality.
Princeton Tec Bot Kid's Headlamp
Educate your child about backcountry safety and/or ensure they don't get lost on the way to the campsite bathroom by getting them their own headlamp. The 15-lumen Bot features two ultra-bright LEDs in a rugged and reliable colorful casing. A large push button makes it easy to operate, and the compartment screws shut to keep batteries from being accidentally liberated by little fingers.