The Best Hiking and Camping Backpacks for Kids
by Berne Broudy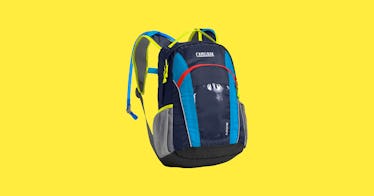 A kid's first backpacking trip can make or break their love of the woods. And few pieces of gear are more critical to the success of that first outing than the actual pack on their back. Hit the trail wearing an ill-fitting kids hiking backpack, and you'll quickly hear about how much they love the great indoors.
RELATED: Qube Tents Connect To Make A Giant Camping Fortress
Durability is key, yes, but a pack needs to be comfortable too. Buy one that fits properly now, but that can also grow with them. Like adult backpacks, most kid's backpacks are sized by torso length and can accommodate a range of sizes thanks to adjustable shoulder straps. Weight distribution is also key. The more gear a tiny hiker carries, the more important it is that their pack has a high-quality, supportive hip belt, and a reinforced back panel. The American Occupational Therapy Association recommends that a child's pack weigh no more than 10 percent of their bodyweight. Help your hiker pack, and keep it light.
ALSO: The 16 Best Pieces of Car Camping Gear For Your Next Family Adventure
Finally, most kids' packs ⏤ including the ones reviewed here ⏤ feature a safety whistle built into the sternum strap, a sturdy haul loop if you need to give them a hand getting the pack on and off, and either a hydration reservoir or pockets for water bottles. Any camping backpack you consider should include them all. That said, here are five starter backpacks designed for hikers between the ages of 5 and 10 years old.
Patagonia Atom Tote Pack 20L
The Atom Tote pack is an upgrade on Patagonia's Tamangito pack with more features. It has enough space for a full day of fun in the woods, thanks to its main compartment with a removable laptop sleeve for multi-purpose use and an easy-access external pocket. It's made from a tough, recycled polyester that handles the wear and tear of being a kid, and the water-repelling finish ensures contents stay dry in a storm. The lightly padded ergonomic shoulder straps (and back) keep the pack comfortable on little bodies, and the versatile pack-to-tote structure allows the Atom Tote to be used for all occasions. Tack on the built-in hydration hanger and bike-light clipping point and the Atom Tote is your perfect, all-rounder bag — from the woods to the classroom.
Weight: 1 lb. 6.7 oz.
Camelbak Scout
When kids stay hydrated, the whole family has a better day on the trail. Camelbak makes that easy with the Scout, which includes an easy-fill, 50-oz. reservoir stabilized inside the stiffened back panel. Two main pockets hold a jacket, PB&J sandwich, and a few other small items. The clear pouch on the front also lets your little hiker customize the hiking backpack with trail treasures or Pokémon cards. The pack is reflective, breathable, and has big zippers for easy access.
Weight: 14.1 oz.
Osprey Jet 18
The most feature-rich rucksack for your little John Muir, the Jet 18 is a true backpacking pack in daypack size. The padded foam backpanel, contoured shoulder straps, and broad mesh hip belt are light, but carry loads comfortably. Osprey puts a mesh stash pocket on the shoulder strap where it's easy to reach, while side pockets hold treasure, water, and extra crackers. An oversized bucket-style main compartment is easy to access, and there's a water reservoir that can be removed or reloaded without having to take the pack off; it sits in a sleeve between the pack body and the backpanel.
Weight: 1 lb., 4 oz.
Gregory Wander 38
If a kid is big enough to start carrying a meaningful load, they're probably also growing fast. This one-size-fits-all top loader can keep up thanks to an ergonomically contoured, adjustable torso belt as well as a broad, pressure-dispersing waist belt. And while for kids, the Wander 38 has adult pack features, including a zipper to access gear packed in the bottom and a fishing pole/trekking pole loop. A big front stash pocket holds a jacket. Lash points and angled mesh side pockets handle the rest. And when your little one catches a big one, the measuring ruler graphic under the lid will keep them honest.
Weight: 2.12 lbs
Deuter Climber
For kids just getting into backpacking, the Deuter's combination of features and price make it an unbeatable value. It's made from ripstop nylon heavy enough to withstand all the abuse a kid can dish out. The padded back includes a channel for ventilation and a lightweight frame that manages moderate loads as well as any adult pack. The broad load-spreading hip belt has gear loops, in case Junior wants to try something more technical, like climbing, that requires a place to clip carabiners. The Climber has big external pockets, lash points for poles, and a double-sided zip lid for easy access to a headlamp or sunglasses. And because it's only 22 L, it'll help keep your eager hiking companion from overpacking.
Weight: 1 lb., 7 oz.