The Best Hiking Boots and Shoes for Men in 2021
From day hikes to long-distance hikes, these are the best hiking boots for any terrain.
by Hudson Lindenberger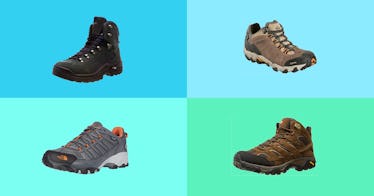 There's nothing simpler, gear-wise, than going for a walk in the woods — but finding the best hiking boots for men (or the best hiking shoes for men) can mean the difference between going the distance or ending your expedition battling blisters and sore feet. The top rated hiking shoes and boots all have one thing in common: They feel great out of the box, no break-in required. As any experienced hiker will tell you, small problems become big problems the farther down the trail you go, so with our list, your focus should be finding the best fit, support, and materials for your individual foot and intended use.
Of course, if you're looking into the best hiking boots and shoes for men, you undoubtably know about the activity's numerous benefits, including providing a great full-body, low-impact workout while helping mental wellbeing. And it's not just anecdotal; researchers at Stanford found that time spent among trees, rocks, hills, and valleys can reduce stress and anxiety and lower your risk for depression. In short, spending 90 minutes in nature even once a week is great for both body and brain.
But if you plan on seriously tackling the great outdoors, you need the right gear. "There are a variety of hiking boots out there designed for a wide array of conditions, and you should tailor your selection to what you think will be needed," says Alyson Stone, a manager at Neptune Mountaineering, in Boulder, Colorado, and an experienced hiker.
If you are going to be hiking somewhere where it rains a lot, a pair of waterproof boots are essential. But, if you are headed somewhere where you're going to be fording a ton of streams you will want boots that let the water out, because waterproof boots act as a tub once they fill with water. If you're setting out in cold weather or you need extra ankle support, look for a taller boot that comes up over the ankle to offer additional protection.
Then there are trail running shoes. They have quickly become the favorite of thru-hikers who routinely spend weeks out on the trail logging high miles. But, Stone cautions, there are some drawbacks: Their minimalist footbed support can lead to aching feet if you are carrying a heavy pack or have a history of arch issues or ankle injuries. And they don't have a long shelf life.
No matter which way you go, great fit is critical. Hiking boots should fit your feet snugly and uniformly, and not have any gaps where your foot is continually rubbing, because that's how blisters are made.
The Best Hiking Boots for Men 2021
The Best Hiking Shoes for Men 2021
Every product on Fatherly is independently selected by our editors, writers, and experts. If you click a link on our site and buy something, we may earn an affiliate commission.
This article was originally published on