Best Men's Backpacks for Hiking
From Patagonia to North Face to Fjallraven to Thule, we found the best backpacks to take on an outdoor adventure.
by Hudson Lindenberger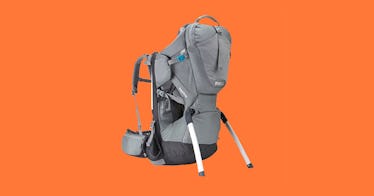 There's something romantic about heading into the great outdoors with just the clothes on your back, but the truth of the matter is that there's some stuff—a jacket, hat, snacks, sunscreen—that you should have on you whenever you go hiking. That means you need a proper mens' hiking backpack or daypack to hold it all, one that's big enough to hold the stuff you need and comfortable enough not to ruin your time on the trail.
When looking for a hiking backpack, only consider lightweight models with straps that can be adjusted to fit over your torso. Your pack should give you easy access to necessary items and a main compartment that's spacious enough to fit your gear.
Here are our favorite mens' hiking backpacks to make sure your next walk in the woods goes well.
Pros: We love that this most comfortable of comfortable backpacks has adjustable torso lengths for improved fit. There's a ton of pockets to keep all your equipment where you need it and easily on hand. You can even attach an ice axe.
Cons: There are not enough large compartments, is the only complaint.
Pros: This thing weighs only 0.7 pounds, yet it can hold 35 liters of stuff. It comes in a rainbow of different colors and has features like breathable shoulder straps and separate compartments that make it a comfortable, versatile pack.
Cons: Lots of reviewers complained that the inner lining peeled away after limited use, though the company said in February that they updated the pack to address this problem.
Pros: This backpack is made of durable nylon, has a low-profile harness to help distribute the load, features contoured shoulder straps for comfort and balance, a padded hip belt to support the load, a breathable airmesh back panel, and an adjustable sternum strap. It fits your laptop and tablet, courtesy of its padded sleeves. And we particularly love the zipper on the left, which provides instant access to the main internal compartment, without having to take the pack off your back. And if Mother Nature gives you shit, there's even a high-visibility rain cover that packs down in the pack.
Cons: At three pounds, it's not the lightest of backpacks.
Pros: Padding on the back panel, waist, lumbar, and shoulder straps is there to cushion the load. Bungees on the outside, a sleeping bag compartment, side pockets, gear loops, and compression straps — this thing has a ton of storage options so you can carry 55 liters however you'd like to.
Cons: The internal frame means this pack, even when it's empty, can't be packed or compressed all that much. You'll need to save more room to store it than you would for a frameless pack.
Pros: The Clear Creek hiking backpack is one of the lighter day packs out there, tipping the scales at a paltry 19 ounces when empty.
Cons: Make sure you're not cramming it too full of stuff, or else comfort will be compromised.
Pros: It's perfect for a day on the trail. This hiking backpack has a hydration reservoir, a valuables pocket up top, a stretch compartment on the back to toss sweaty gear into, and a comfortable hip belt that you can remove if wanted. It only weighs 1.1 pounds, but you can still fit a fair amount of stuff in the main compartment and dual webbed side pockets.
Cons: Sizing can be an issue, depending on your torso.
Pros: This Osprey backpack has tons and tons of pockets to fit anything and everything you might need. Probably one of its best features is the lumbar/hip belt that really keeps the pack snug to your torso and a breeze to wear. It also has side and top stash pockets and a small compartment up top to toss your phone in.
Cons: Some say the straps on this hiking backpack can chafe and irritate skin.
Pros: Comfort is key with this hiking backpack, as customers rave about fit and the way it basically molds to your body. Plus, it offers multi-density foam construction to get rid of hotspots and relieve pressure in sensitive areas. The 3D AIR mesh wicks away moisture, boosting your overall comfort. It has ample padding and keeps your stuff organized. The medium-sized one weighs almost five pounds, so pick your size accordingly.
Cons: The reviews, for the most part are positive, but some hikers had issues getting the right fit.
Pros: This hiking backpack is a multi-use workhorse that functions just as well for hikes as the rest of your life. This is a perfect backpack for older kids.
Cons: The small size can be a turn-off.
Pros: This hiking backpack distributes the weight more evenly, for a an easier hike. It has an adjustable double halo harness, a padded cockpit for added safety, and a built-in sunshade.
Cons: Carrying your kid in a backpack can be tough on your hips, so be careful not to plan hikes that are too ambitious.
Pros: There's solid padding in the hip area, which makes this hiking backpack that much easier on your body. There are two zippered hip belt pockets, providing very easy access to wipes and snacks. We love the breathable back panel, to keep the sweat to a minimum, and the load stabilizer that adjusts the center of gravity for better balance on the trail.
Cons: Getting the backpack on takes practice, as do most other packs that carry kids.
Pros: The eco-friendly exterior of this backpack is waxed for light weather protection. It has attachments for trekking poles and a loop for a camera bag. When it's empty it can be folded almost perfectly flat.
Cons: Probably not ideal for serious heavy-duty usage.
Pros: This backpack has a flap with a pressure-release closure, a top-hook handle with adjustable shoulder straps, and an exterior front zip pocket. It's got a flat bottom, meaning it won't fall over when you need to get something. And it has a handy laptop compartment.
Cons: A few extra pockets wouldn't hurt.
Every product on Fatherly is independently selected by our editors, writers, and experts. If you click a link on our site and buy something, we may earn an affiliate commission.