The Best Kids and Toddler Headphones to Keep Volume at a Safe Level
They're comfortable, customizable, and colorful.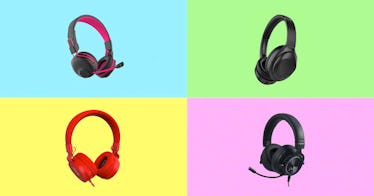 The best kids headphones and toddler headphones have one very basic but crucial job: To serve as parental tools that help protect children's hearing, while also letting them listen to their favorite music or shows without further fraying what's left of adult sanity. They're also crucial pieces of gear as yet another school year remains mostly centered around remote learning. Kids need to be able to listen to their teachers, follow along with lessons, and do both without driving their WFH parents insane inside homes converted into shared work and learning spaces. But before you pass your son or daughter your own full-strength bluetooth headphones, there are a few points to consider.
The World Health Organization recommends that when using headphones, kids listen to SpongeBob at a volume no greater than 85 decibels, for no more than 60 minutes at a time. For that reason, select a model with a built-in limit that fits these constraints. Ambient noise reduction is another solid feature if your kids will be using these in loud places, like a living room with a TV on in the background. And choose whether you want wired headphones, or Bluetooth ones. That's purely an issue of preference.
Every product on Fatherly is independently selected by our editors, writers, and experts. If you click a link on our site and buy something, we may earn an affiliate commission.
The Best Kids Bluetooth Headphones
The Best Wired Kids Headphones
This article was originally published on