12 Next-Level Halloween Decorations to Creep Out the Neighborhood
Creep out the neighborhood with these next-level displays.
by Hudson Lindenberger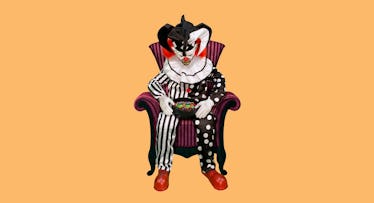 Every neighborhood has one: that house that goes all out on the Halloween decorations, that turns its front yard a Wes Craven film set. If you want to join in on the fun this year, well, there's never been a better time to do so. Thanks to better tech, there are more — and more affordable — animatronic creations available for you to set up in your front yard and scare the living bejesus out of trick or treaters. Brain-munching zombies that reach for your candy bowl as the kids do. Fake doorbells fitted with blinking monsters eyes. Book sets that utter spooky noises. Here are our favorite next-level Halloween decorations to help up the fright factor on your house.
Grandin Road Henry the Zombie
Henry looks like he just clawed his way out of his coffin and is coming to snack on some brains. When people approach his head spins around, his eyes light up, and he emits a deathly moan. He is one of three zombies that Grandin Road offers the other two are Larry and Skully, get all three to make a walkway from hell.
Grandin Road Animated Eyeball Doorbell
Perfect for those who don't want to scare little ones too much, this animated doorbell will make them pause for a moment. They hit the button and a glowing eyeball greets them looking from side to side. You can choose from one of four greetings that it will recite welcoming all to the party.
Grandin Road Animated Brewing Witch Trio
I wouldn't be Halloween without a few witches hanging about, so take care of that with this coven life-sized ones brewing up a potion in their cauldron. When people trigger the sensor the middle witch starts to stir the cauldron and says one of three sayings.
The Horror Dome Animated Haunted Books
Sometimes it the little things that take things to a new level, and that's what these enchanted editions will do. When people pass by them the four books will slide in and out and make ghostly sounds. When guests pause to look at them they will see warnings in the author's names.
The Horror Dome Swinging Chuckles the Clown
For anyone who is scared of clowns, this creepy swinging one will send chills down their spine. It's life-sized, has glowing eyes, has a head that turns side to side, spouts out different phrases in a hideous voice, all while innocently swinging back and forth. Best of all its sensor works from 6.5 feet away so no one sneaks by.
Spirit Looming Strawman
Halloween and scarecrows just go together, so prop this gargantuan one (6.5 ft tall) in your front yard. As people approach him his eyes will light up and he will start to speak to the passers-by, then about halfway through monologue (he has four of them), just when folks are getting comfortable he lunges for them with both arms in an attempt to trap them.
Spirit Man's Possessed Friend
Introduce the neighborhood kids to this hound from hell and send them scurrying. As kids approach the doghouse for the innocently named Bubba they will wonder why the pup inside is crying. But, once they get close enough to trigger the sensor his head lunges out with glowing eyes, a snapping jaw, and a demonic bark. As they bolt backwards he will slowly recede, in wait for his next victim.
Distortions Unlimited Candy Creeper
This freaky life-sized mullet wearing maniac will cause any kiddo coming close for candy to stop in their tracks. When he "awakes" he rocks back and forth, and will speak a variety of phrases from an audio track that you can download, and update each Halloween. All kids have to do is reach into the rotted pumpkin sitting on his lap for their candy.
Spirit Sitting Scare Clown
Anyone approaching this 4.5-foot clown sitting on your front deck would have reason to be nervous, as, well, it looks hideous. When trick or treaters reach for the candy a sensor triggers the clown and his head snaps up screaming "Surprise". Simple, yet terrifyingly effective.
AtmosFX Digital Decorating Kit
Transform a window, or wall, or even your doorway into an otherworldly realm with this digital projector kit. It comes with 14 pre-loaded scenes for several holidays (eight for Halloween and six for other holidays) and the material to set project upon. The cool thing is once you own the system you can order a plethora of other scenes (zombie invasion, dead people watching people pass by, demons trying to escape) that lets you customize your pad for every single Halloween in the foreseeable future.
This article was originally published on