The Best Hair Dryers, According to Charlize Theron's Hairstylist
Say goodbye to bedhead with the best hair dryers on the market.
by Donna Freydkin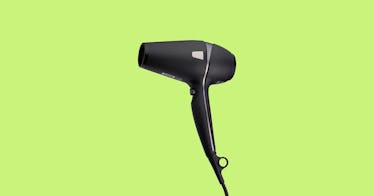 Even if you have a cut that would make General MacArthur proud, your home needs a good hair dryer. Whether it's for curly hair, fine hair, or thinning hair, it's an essential purchase for you, your better half, or your kids. It's also a confusing purchase since the price range can run from $20 to $550 and the features involved are more variable than what you find buying a new car.
Which is why we consulted Adir Abergel, the co-founder of Virtue haircare and the follicular genius who styles the glossy, healthy hair of Anne Hathaway, Charlize Theron, and Jennifer Garner.
"A dryer is an investment that should last a lifetime. It's not a fashion item," he says. "A great dryer costs money. A consumer needs something more lightweight than what I would use, but something that has enough power to it and that has, for me personally, and a cold shot button. The heat molds and the cold locks in the shape, the volume, the finish"
Abergel has a few things he wants you to keep in mind. First of all, how fast does it dry your hair? We're assuming you won't be waking up two hours early for a one-man styling session, so you need something that gets hot, fast, and has great airflow. You want a dryer that's lightweight, because otherwise, you won't use it. You need a cord that's as long as possible, so you can move around and dry every last follicle.
These are the best dryers, which meet the criteria above, for different hair types.
The Best Overall Hair Dryer
"The most versatile dryer out there is the ghd blowdryer," says Abergel. No joke. The airflow is powerful. The cord is among the longest out there. And the contoured nozzle focuses the airflow for precise styling. It's lightweight enough that you can use it without pulling any muscles, it has the cold shot button Abergel loves, and in general, it will serve you well.
The Best Hair Dryer for Thin Hair
This lightweight hair dryer has 1875 watts of power. But its biggest selling point is its use of tourmaline technology, which means it emits infrared heat and negative ions, so it's much gentler on your hair.
The Best Hair Dryer for Frizzy Hair
"Ionic elements make the hair softer and less frizzy, and help it look smoother. And Conair makes really great products," says Abergel.
This 1875 watt hair dryer costs less than a bottle of wine, but will last you much longer. It's powerful, it has ionic technology to make your hair nice and shiny, and the price is right. But we do have one quibble: We wish the cord was more than five feet long.
The Best Hair Dryer for Curly Hair
It's the quietest hair dryer we've ever used. And it's got four exacting heat settings, plus three equally precise speed settings, to ensure you get the specific look you want. It's easy on the eyes, too, if not the wallet. Plus it has a cold shot option to set your style. "If you want to defuse curls, the Dyson is my favorite," says Abergel.
Every product on Fatherly is independently selected by our editors, writers, and experts. If you click a link on our site and buy something, we may earn an affiliate commission.
This article was originally published on