Gravel Bikes Offer an Unbeatably Versatile Ride for Fun-Loving Parents
Here are nine of the best gravel bikes for 2021.
by Jen See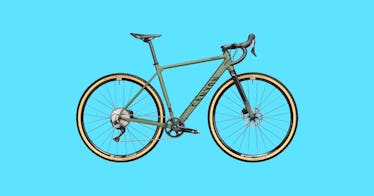 Want a versatile bike to ride with friends, cruise with your kids, and maybe head out for an overnight adventure? You need a gravel bike. You've probably heard of these cool rides, and maybe you've wondered what all the fuss is about. A gravel bike takes the curly, drop bars and diamond-shaped frame of a classic Schwinn 10-speed and toughens it up for off-road adventuring. Gravel bikes feature wider tires, a more relaxed and comfortable position, and wider gear ranges, which makes them easier to pedal.
All these elements add up a to a fun, reliable bike that will take you just about anywhere, letting you cross effortlessly from pavement to dirt and back again. Most gravel bikes come equipped with multiple mounts for water bottles and bags, too. Pack up panniers or saddle bags with all the gear you'll need for a weekend under the stars or load them up with a few provisions for a family picnic. Gravel bikes come with either 700c or 650b wheel sizes: The bigger 700c wheel size rolls faster, while 650 wheels typically offer more tire clearance for wider tires and easier maneuvering.
Do we recommend a gravel bike for commuters, off-roaders, and parents alike? Yes. But we should also warn you that bikes of all kinds can be difficult to find right now for a number of reasons. During Covid, demand for bikes went up wildly, as more of us have opted for self-propelled commutes or headed outdoors in search of safe fun. And while factories have struggled to keep up with demand, supply chain wrinkles — from materials shortages to shipping back-ups — have interrupted production.
If you're patient and willing to search around a bit, there's a cool ride out there for you. We've tried our best to help you out with that search. Here are nine bikes we love and that are either available now or should be soon.
The Best Gravel Bikes: Our Picks for 2021
Buy this bike if: You're a fan of the Italian heritage of cycling and want an Old World take on a New World trend. With its push into the U.S., you can buy the bike direct from the company or through your favorite local or online shop.
Buy this bike if: You want a fun, versatile bike and you're on a tight budget. Marin is receiving new bikes from their factory regularly and working overtime to get them out to dealers. Find a Marin dealer.
Buy this bike if: You like the idea of a low-maintenance, grease-free drivetrain and you want a lightweight, adventure-ready ride. Priority is currently taking orders online for an expected June delivery.
Buy this bike if: You don't have a ton of cash to spend, but you want a capable bike for venturing off-road. Sizes M-XL are currently available at Backcountry.
Buy this bike if: You plan to play in the dirt road regularly, and you want a bike with an insane build for the price. The Grail 7 1By is available direct from Canyon, and expected to ship in June 2021.
Buy this bike if: You want an eye-catching ride with high-quality parts. Limited sizes available now at Jenson USA.
Buy this bike if: You want the comfort and feather weight of a well-tuned carbon frameset at an affordable price. The Diverge Base Carbon is not currently available online, but you can find select sizes at some Specialized dealers.
Buy this bike if: You have overnight adventures and the occasional gravel race in your sights. Available online in sizes 53cm, 56cm, and 59cm at Competitive Cyclist.
Buy this bike if: You have some cash to spend and you want a light bike that'll go fast and play hard. Limited sizes available off and on at Backcountry. You can find local and online dealers at Ibis Cycles.
Every product on Fatherly is independently selected by our editors, writers, and experts. If you click a link on our site and buy something, we may earn an affiliate commission.
This article was originally published on