The Best Gifts for Whiskey Lovers
Excellent glassware, interesting books, and plenty of bottles to excite the whiskey lover on your list.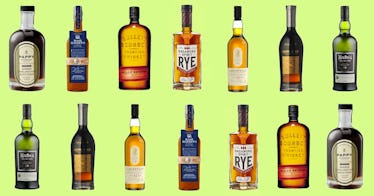 When it comes to gift-giving, there are few easier to delight than whiskey lovers. Whether a gift for a whiskey lover is bourbon, rye, or Scotch, the surest way to bring a smile to his mouth is through the brown liquor that goes in it. Sure, some may like "whiskey"; others a peated or peppery "whisky." But whether their dream vacation is in Islay or Bardstown, Kentucky, the best gifts for whiskey drinkers are somewhere between the neck and the bottom of these bottles — and in using the best whiskey accessories and gifts, from the right Star Wars ice molds to an encyclopedia of whiskey cocktails.
The Best Scotch Whiskys for Guys
The Best Bourbon Whiskeys for Guys
The Best Rye, Tennessee, and Miscellaneous Whiskeys for Guys
The Best Whiskey Accessories for Guys