The Best Holiday Gifts for Golfers
Something for every club swinger on your list.
by Mike Dojc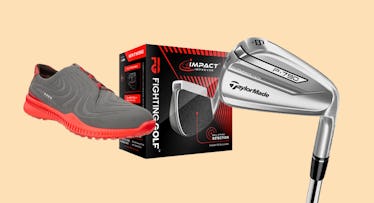 The golf bug affects players to varying degrees. On one end of the spectrum are the backyard chippers who may only play eighteen twice a season but nonetheless maintain an enviable collection of wedges in the tool shed. Then there's that sizeable cohort of golfers who get their golf jollies mercilessly bashing a bucket of balls at the driving range once a week in order to melt away stress — some while picturing their boss' head on the tee. And no matter how deep the game runs through their veins, from rank beginners toeing into the sport all the way to power-fading single-digit handicappers, we've picked out the best golf gifts for every skill level. From swing-correcting training aids to a subscription service that drops new golf clothes at the door every month, here are some of our favorite picks. Too bad it'll be 10 degrees outside Christmas morning.
Ecco S-Drive
The spikeless golf shoe pioneers at Ecco repeatedly trot out innovative designs that feel fantastic even after logging eighteen holes. Taking cues from running shoes, the S-Drive's unique swirling construction and asymmetrical lacing system combine for a snug and stable fit. The uppers are treated with Ecco's Hydromax technology to weather drippy conditions — tackling not only wet grass but sole sweat too. No wonder Smylie Kaufman always looks so sanguine.
Chipping Pro
Do missed approach shots trigger an alarming sense of dread, fear, and self-loathing? If so, you may suffer from Chipping Anxiety Syndrome. With the Chipping Pro, though, say goodbye to shoveling, scoopy-itus, and that dreaded three-inch dunce. Simply miss the block at the back of the device while depressing the flap at the front on your follow through and that awkward feeble flip you used to employ will be a distant memory. It only takes a couple practice sessions to start seeing marked improvement in your greenside manner.
Impact Improver
The Impact Improver is a simple way for beginners to sharpen their sweet-spot smacking abilities. Slide the Velcro-covered strike-shield over the clubface of any iron and swing away in your living room or office. When you strike the included cushy impact balls they stick to the shield for immediate visual feedback on contact location — ideally it should be in the center of the face. Warning: steer clear of hardwood and be sure you have enough clearance in the room to let fly, otherwise your practice session could get expensive.
P790 Irons
TaylorMade's engineering whizzes have injected these hollow headed wonders with their latest USGA legal performance-enhancing substance — Speedfoam. The foam (the golf equivalent of NOS) supports the clubface while also dampening the impact-sound to enhance feel. Ball speed across the clubface is jacked up thanks to the inverted cone technology, which has allowed the designers to reduce the thickness on the edges of the clubface goosing flex from heel to toe.
GBB Epic Star Drivers
Tipping the scales at a mere 286 grams, this flyweight big stick can go from the backswing on through to impact in a flash, offering older golfers a chance to roll back the clock to a time when their swing speed was few miles per hour quicker. It's based on a Mitsubishi Grand Bassara shaft, 41-gram Golf Pride 200 grip, and 9.7-gram triaxial carbon crown. It's also endowed with Jailbreak, Calloway's de rigueur distance jacking technology, and a perimeter weighted titanium Exo-Cage which promotes a tried-and-true trifecta of desirable driver characteristics: high MOI, low spin, and high launch.
Tathata Golf
Tathtata's "wax on, wax off" streaming golf curriculum can be a tad new age-y, marrying form-reinforcing stretches and movements with contemporary sports psychobabble and positive thinking mantras ⏤ think golf Tai Chi peppered with Tony Robbin's platitudes. But as you progress through the sixty-day training program (which can be tackled at your own pace), you'll hone your muscle memory to the point that you're no longer sweating the positional minutia of your swing dynamics. The results can be transformative.
Bombtech Insanity Bundle
A full set of irons, a driver, a fairway wood, and three wedges for less than $500. The only club missing is a putter. This disruptive Vermont-based, direct-to-consumer club manufacturer is squarely aimed at everyman golfers looking to pull the pin on quality sticks at a great value. Their first Grenade driver launched in 2013 and they've been dropping bombs on the golf equipment game since.
Kirkland Signature Golf Balls
Costco's hotly coveted four-piece urethane golf balls are back in stock. K Sigs, as golfers have taken to dubbing these true rolling superstore spheres, were a massive hit when the tour caliber ball with the hacker-friendly sticker price were released in 2016. Even before sleeves got scarce thanks to Costco's patent infringement case with Titleist's parent Acushnet, these balls were famous for their propensity to vanish faster than a tray of free samples. Grab them while you can.
Short Par 4
For the new golfer who wants to look the part, this subscription box club can help amass a golf wardrobe with minimal effort. And whether they prefer to rock wild and loud getups as they stride down the fairway or are after a more muted and classic look, Short Par 4 caters to a wide variety of style archetypes. Simply choose the style and new polos, belts, hats, shorts, and pants will start showing up at the door on the regular. Brands include big names like Puma, Travis Matthew, and Adidas to cool up and comers like Chase 54.