Holiday Gifts: 12 Great Presents for Soon-to-Be Fathers
Including a spill-proof coffee mug for long nights, smooth Scotch for celebratory ones, and a bag to pack it all up.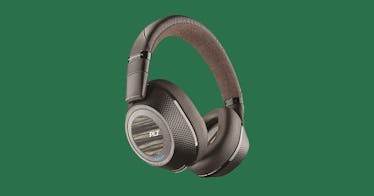 Traditionally, when a baby is coming soon, mom gets showered with gifts, the baby gets a ton of stuff, and dad, well, gets to share what mom gets and little else. The next time you see one of your buddies tagged in a Facebook pregnancy announcement, treat them with something off this: a spill-proof coffee mug for long nights, smooth Scotch for stressful ones, a bag to pack it all up, and more. Take a look.
Tosan Pop & Tot Fleece Crew
This matching set of father-child sweatshirts are simple, cozy, and — thankfully — available in a dark colorway that helps mask the various stains of new parenthood that will appear on it. What else do you need?
Mighty Mug
Coffee is many new parents' lifeline. Unfortunately, scalding hot dad fuel and a tiny, flailing baby is a dangerous combo. Enter Mighty Mug. It has "Smartgrip Technology" that creates a powerful airlock to any flat surface so it can't be knocked over. Ever. It only releases with a natural, straight-up lifting motion. It'll be years before the kid's motor skills (or palate) are that advanced.
Trigger Point Grid Foam Roller
Both soon-to-be fatherhood and fatherhood itself come with a lot of stress. This foam roller, which lets users self-massage the knots and kinks, will come in handy. The three-dimensional surface helps relieve muscle tightness while the hand-wrapped EVA foam gives the grid a firmer surface than similar models.
Espro Press P7
Utilizing a double-filter system, this french press ensures a full-bodied 18 ounces with none of the last-sip grit you're used to grimacing through. And unlike many standard models, its double vacuum-insulated stainless walls won't shatter after an errant drop. Bonus: You can even brew tea in it.
Glenmorangie 18
This spirit was put to bed for 15 years in American white oak casks. Then, a portion was separated for an additional three-year nap in Oloroso sherry casks while the remainder hits the snooze button. At the end of those 36 months, the lot is reunited to create a complex whiskey with notes of dates, figs, nuts, vanilla and a subtle, satisfying smoke. It's a wonderful special occasion bottle. Plus, any expecting dad will see the 18 and freak out a little about how far off that age seems.
Glencairn Whisky Glasses
A proper Scotch deserves a proper glass, and Glencairn has achieved iconic status as the standard for aficionados. Its full bowl and tapered neck and rim make it comfortable in your hand, holds the aroma, directs the bouquet for more precise "nosing," and enhances the overall color, body, and finish. Just tell your buddy it makes whisky taste better, and to pour one for you. Did he think you bought the set for his other friends?
KinderPerfect
This parent-specific version of Cards Against Humanity is the perfect delayed-gratification gift for an expecting guy for two reasons. First, it takes a bit of parenting experience to get many of the jokes. Second, it takes a little while before new parents have time for another game night.
Plantronics Wireless Noise-Canceling Backbeat Headphones
A good pair of headphones is essential for those times when dads need to get some work done, or just want to relax and watch some Netflix (during nap time, of course). The 330-foot Bluetooth range and 24-hour battery are impressive. But these headphones also feature smart sensors that automatically pause music when you remove them, which will happen a lot during those panic-y "Is the baby sleeping?" moments.
XLR8 Charging Backpack
This tech-infused diaper bag will go over well with any parent. It has a large interior pouch that holds diapers, wipes, toys, and all the kid's stuff in a separate compartment from the laptop and tablet pockets. Plus it has five smaller pockets to corral charging cables, pens, and keys as well as insulated side and front pouches that keep bottles and food fresh. But best of all? It comes with a 7800mAh power bank to keep everything charged.
Pendleton Original Westerly
Made famous by the Coen brothers' cult classic The Big Lebowski, Pendleton's Original Westerly is a staple for any hard working dad. It's hard to dress up this patterned staple, but it's an easy way to cover that White Russian (or, let's be honest, spit-up)-stained shirt when you don't have time to change.
American Giant Classic Sweatpant
We here at Fatherly are big fans of American Giant Sweatpants and once you wear a pair, you'll understand why. The mid-weight cotton fabric is robust and durable, and the straight fit is flattering without straying too far in fashion.
Mission Critical Tactical Baby Carrier
Is the dad-to-be experiencing some tough guy withdrawal? Tell him to suck it up and that masculinity is a construct and besides, being a good dad is a "manly" thing. Then, get him this 1000D Nylon carrier, which looks like something a SEAL team would wear on "Take Your Daughter To Work" day. Kids can ride either facing in or out, and the carrier features a removable interior liner, zippered front pocket, and a hideaway sun shield. Also, there's mesh webbing for better air flow/comfort, which means no more infant-sized sweat stains.
This article was originally published on