The Best Gaming Headsets That Let You Frag Bad Guys Without Waking the Baby
Six options for every budget.
by Jon Gugala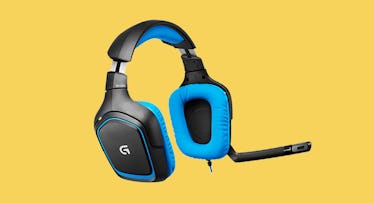 Once upon a time you could play video games and not worry about the percussive sounds of frag grenades, fists crunching against faces, or footsteps in a dungeon. But now you have tiny people in your home and there are nap times and nighttimes and other times where silence must reign. In other words, now is the time to invest in a gaming headset that can deliver immersive sound without waking up the kids.
Well, we have good news for you: there's never been a better time to buy a new gaming headset. The market is flooded with excellent options at all price ranges. That's why we went through the available options and found best option at every price range. We're talking budget-friendly sets that offer top-tier comfort and quality, mid-priced options with surround sound, more powerful wireless connections, and increased comfort, and luxury options that make you feel like you're on the battlefield. Take a look.
The Best Budget Friendly Gaming Headphones
Logitech G430
Logitech makes some great mid-priced headsets that punch well above their weight, but we were blown away by the entry-level G430. The wired unit's surround sound is rich and immersive, while the mesh earpads (made from a washable, wicking material akin to your favorite running shirt) were comfy for hours. Even the noise-canceling mic, while not meeting some of the more expensive options' performance, still performed admirably. The company appears to be blowing these out, so there's never been a better time to get more bang for the buck.
Corsair Void Pro
The proof is in the details when it comes to the Corsair Void Pro. Sure, you get the same Dolby 7.1 digital surround sound that has become nearly universal, and yes, you'll get a similar noise-cancelling microphone as others. But details like a digital sound mixer, 40-foot wireless range, and memory-foam earcups made this headset a pleasure to game in. Like its Logitech brother, Corsair has discounted these substantially, allowing you to afford mid-level performance at an entry-level price.
The Best Mid-Priced Gaming Headphones
Razer Man'OWar 7.1
If you've never experienced 7.1 digital sound, the Man'OWar is the headset to make the introduction. The dramatic sound is further immersive thanks to their noise-canceling feature, thumping 50mm drivers, and plush ear-cups. Sure, a wire, which connects via USB to their "engine," can be a drag for more acrobatic gamers, but if sound is the most important thing, then these are your pick.
HyperX Cloud Flight
Don't let its price fool you: while the HyperX Cloud Flight may come in at midrange on this list, the company's headsets consistently rank in the pole position at any price among gaming experts. It's easy to see why. The unit's no-frills wireless connection, industry-leading 30 hours of battery life, optional wired-in connection, and noise-cancelling mic make these the workhorse of the gaming world. What these lose in aesthetics is more than made up for in everyday performance. Bonus: their fully retractable mic means you'll never misplace it.
The Best Luxury Gaming Headphones
SteelSeries Arctis Pro Wireless
What do you get when you drop more than 300 clams on a pair of gaming headphones (besides a serious talk with your partner about fiscal responsibility)? A first-of-its-kind immersive gaming experience. Between its uber high-res speakers, lossless and lag-free wireless connection, and a dual battery system for marathon Saturdays, this is what the grown-up gamer is privileged to enjoy.
Sennheiser GSP 600
OK, some may have scoffed at longtime studio sound-provider Sonnheiser's foray into gaming headsets, but the company's decades of attention to quality sound shows through in its GSP 600. A unique headband creates a system that adapts to just about every head- and ear-shape, alleviating pressure and hot spots, while rich, 3D sound seems to come at you from every direction. We loved the special sensitivity to the gamer-critical high range. However, it's also clear it did its industry-specific homework, as evidenced by a noise-canceling microphone and the inclusion of multiple input jacks, including PC, Mac, and 3.5mm connections.