Best Gaming Chair For the Gamer In Your Life
From first-person shooters to 'Fortnite,' every game is more enjoyable with the right chair.
by Jon Gugala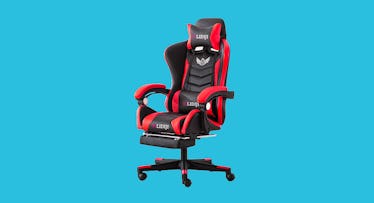 If you're serious about your gaming, you need the proper equipment. And by equipment, we mean a gaming chair.
You've spent long hours, days, and weeks in the office, and after dutifully returning home to shovel the driveway, load the dishwasher, massage your partner's feet, and tuck the kiddo into bed, now's the time for you to frag some pogs with your friends. But what are you supposed to do, just sit on the couch? That's for chumps who don't have a gaming chair.
Whether you're console-gaming or at the PC, you'll appreciate a more comfortable seat—and that's where specialty gaming chairs come in.
Approaching your first gaming chair first requires an explanation. In short, you'll get more support, more mobility, and, for the right price, even a massage. If orchestrating pincher moves on hapless victims is your way of unwinding after a long day, then you owe it to yourself to get the most out of it. Luckily for you, we've got a list of our favorites for every budget, from the most accessible to the most lux.
Pros: To really play racing games, you need dedicated mounting areas for shifter, racing wheel, and foot pedals. The Advanced Racing Set has adjustable, metal-alloy platforms for mounting that accept all of the most popular modules, including Logitech. This fabric-covered seat is also surprisingly light for its size, coming in at around 63 pounds.
Cons: With specialization comes a price. If you're only an occasional racer, you will likely have a better experience with a universal chair and utilize additional accessories when you get behind the wheel.
Pros: The synthetic leather is back—polarizing for some, but OK for us—as is a breathable mesh. Plus, for gamers beat down by a full day's work, a reclining option, which lays back to 155 degrees, and an extendable footrest allows for a fully relaxed gaming experience.
Cons: While it's not terrible in these colder months, we wonder how its faux leather will hold up in the summer—especially as it seems to incorporate fewer mesh-paneled areas than other models. Also, for those who sneak a nap in their chair, other chairs on this list recline further.
Pros: Rocker chairs aren't for everyone, but if you like being lower to the ground while you game this is a great one. It has two speakers built into the headrest and a subwoofer that's positioned so you can feel the bass on your back for an immersive audio experience.
Cons: If you already have a nice home theatre system, the audio features of this chair won't be an upgrade. It's also harder to use this as an office[chair should the need arise.
product asin="B01CRCNSHU" title="BIRDROCK HOME Adjustable 14-Position Memory Foam Floor Chair" description="This is a great chair if you like the form factor of a rocker but don't want built-in speakers to drown out your already calibrated home audio setup." tracking="fatherly-gamingchairs-20″]
Pros: The backrest has 14 different positons and the whole thing is padded with memory foam, so this chair is definitely designed to be comfortable. It also has less aggressive styling than a lot of chairs, so it won't stick out as much in your living room or den. It also lays flat for easy storage under the couch should the need arise.
Cons: Some customers complain that the chair is a bit small, so it may not be a good choice for bigger dudes.
Pros: While many chairs feature detached, tower-like armrests, the GreenForest Gaming Chair ties them in to the chair's back, making them sturdier while still allowing them to adjust.
Cons: A body entirely from synthetic leather seems problematic in warmer climates or warmer man caves. While its cutouts allow some air back there, those who are heavy sweaters may run into problems.
Pros: At 34 pounds, it's also the lightest we found and the lightest on this list.
Cons: With such a stripped-down model, Saturday gamers may miss the ability to fully recline, and long-term users may miss premium features of lumbar support, adjustable armrests, and protruding neck padding. You're at the mercy of its out-of-the-box fit, but thankfully the company has a 30-day return policy.
Pros: Nothing beats the real thing, and this chair is upholstered with bonded leather, a mixture of the real stuff and synthetic, for a feel that is night-and-day different from the plastic of others on this list. It also features the metal frame, which we noticed was more supportive than traditional, cheaper chairs.
Cons: Heat, as we mentioned with others on this list, can be a problem. The gaming chair doesn't even feature cutouts, meaning it's just your back and the chair. Furthermore, its tower-style armrests aren't the most supportive.
Pros: The USB-powered lumbar massager is the crown jewel, but there's plenty more to love. The nearly five-inches of padding added to this chair's comfort, which perfectly concealed the robust steel frame. We also appreciated the upper-back cutouts, which allowed air back there.
Cons: While lumbar massage is nice, we expected a better material than this chair's synthetic leather.
Every product on Fatherly is independently selected by our editors, writers, and experts. If you click a link on our site and buy something, we may earn an affiliate commission.
This article was originally published on