The Best Flavored Whiskey to Sip This Summer
From damn good moonshine to a chocolate whiskey that will blow your mind.
by Nicholas McClelland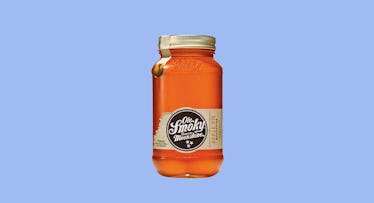 The term 'flavored whiskey' draws more than a few eye rolls from brown spirit enthusiasts. The reason? Most of it is awful, designed for those who don't actually like the taste of bourbon, Scotch or rye, with flavors that seem ripped from the special of the day list a kooky ice cream parlor (Black Cherry whiskey? Pumpkin spice whiskey?). That said, there are still some damn fine flavored whiskies out there.
Yes, of course, all whiskies are flavored. They derive their taste from the water, grain, and yeast used to make the spirit and aged whiskies get even more seasoning from wood in which they rest. That's why they have distinct tastes. What we're talking about is when makers move beyond traditional methods of tweaking their hooch. And sometimes, they're successful. From tabasco-finished whiskey to apple pie moonshine, here are five flavored whiskies to sip this summer.
George Dickel Tabasco Finish
George Dickel takes their Tennessee whiskey and gives it roughly a month of extra aging in the same pepper-aging barrels used by the folks at Tabasco. Truth be told, when this one first hit the shelves, we were a touch skeptical. But, the whiskey is weirdly good, with a sweet-heat that's great for chasing barbecue, paired with a pickleback and in a whiskey Bloody Mary.
Breckenridge Spiced Whiskey
Intended to be sipped apres ski by the fireside, Breckenridge Spiced Whiskey is hand-infused with roots and winter spices. But we like it year-round. Strong notes of cinnamon, clove, pepper and honey make it make it a lovely mouthful and solid base for a milk punch.
Knob Creek Smoked Maple Bourbon
Knob Creek is one of our favorite every-day sippers. But their Smoked Maple expression is a nice way to shake it up a little, especially in a cocktail. The maple makes a pleasant addition to, and doesn't drown out the strong vanilla and caramel notes.
Ole Smoky Apple Pie Tennessee Moonshine
There is something oddly satisfying about pouring your drink from a jar. Beyond the hillbilly elegy wistfulness, Ole Smoky Apple Pie Tennessee Moonshine is pretty damn delicious, even for those who don't like un-aged whiskey. It has an undeniable sweetness and apple pie flavor that also make a dynamite addition to an Old Fashioned.
Kings County Chocolate Whiskey
Kings County uses artisan cacao husks to flavor its Chocolate Whiskey. When we tried it, we were expecting dram on the sweeter side, but it's rich in the mouth and wonderfully balanced with an enchanting bitterness.
This article was originally published on