The 6 Best Fishing Lures, According to a Bassmaster Champion
Bassmaster Champ Mike Iaconelli dishes out the lures he uses to find (and catch) fish.
by Doug Schnitzspahn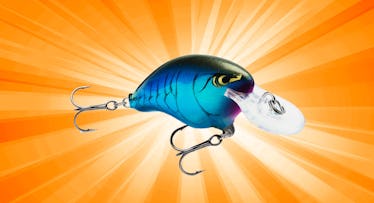 Is there a better lazy summer activity than fishing? Problem is, fish are as finicky as toddlers — they feed on one type of food then switch as the day progresses — which could make for a frustrating day on the water. That's why you don't want to sleep on good lures. No, they won't guarantee you a full cooler by day's end. But they will certainly up the chances.
The job of the lure, of course, is to imitate what the fish are feeding on. Some work to imitate food fish always love (like crawfish); others work to annoy or tempo a fish into an aggressive bite. When stacking up your tackle box you'll want to think about those that imitate common food in the water where you are fishing. You'll want to carry a variety of colors in the same lures, and you will also want to think about lures that allow you to fish different depths of the water column. (Side note: Freshwater anglers often call an artificial lure a "bait" but don't confuse the plastic imitation with a real wriggling worm in this terminology. Actually, bait fishing is often frowned on in the sport fishing world where the skill and thrill rests more on mimicking the real thing.)
So which lures give you the best bait for your buck? The options are seemingly endless, which is why we reached out to pro fisherman Mike "Ike" Iaconelli. The Philly native's passion and propensity for hip-hop over country make him a fan favorite in an intense sport with a rabid fan base. He's also damn good at catching fish, having won the Bassmaster Classic in 2003 and continuing to be a force at the highest levels of tournament fishing. How does he do it? It starts with an understanding of how to fish the entire water column, from bringing fish to the surface to dragging lures on the bottom.
"The fish are always at one level of the column," he says, "So you need to carry a range of baits that can catch them no matter where they are in the water." To that end, here are six lures, several of which he helped develop, you'll find in Iaconelli's box.
Best For Top of Water: Rapala X-Rap Pop
"Fishing top water is exciting. It's vital. It's my favorite. This lure is a poppler, and the neat thing about a popper is it's a lure you can work at a lot of different speeds—you can twitch it slow to make a little commotion or you can wind and pop it real hard to attract the fish," says Iaconelli. "When it comes to choosing a color, I think about what the fish are feeding on naturally and then pick a color to match. One of my favorite colors for the X-Rap Pop is called yellow perch. It has green on back and stripes down the side and it looks like a lot of stuff from a bluegill to yellow perch to crappie."
Best Sub Surface Jerkbait: Berkley PowerBait Power Jerk Shad
"This is a soft plastic lure that works just under the surface," says Iaconelli. "I rig it Texas style with VMC 4/0 hook and can twitch just under surface. It looks like a struggling minnow. You can cast it and let it slowly sink. When I rig it this way, it can snuggle in under and through weeds. You can't do that with a popper with a treble hook. I fish it in lily pads. I skip under docks. It's pretty versatile."
Best Mid-water Crankbait: Rapala DT 6
A wooden lure with a plastic bill that dives to six feet (hence the 'DT 6' in the title), this lure, per Iaconelli, greatly a resembles a real fish. "The nice thing about a crankbait is that you just reel it straight in — you don't have to do a lot with it to make it pop and twitch," he says. "You just cast it out and reel in; the bait provides all the action." Iaconelli adds that the lure also triggers a "reaction bite" because it moves rapidly through the water and even fish that aren't hungry will attack it out of a reaction.
Best Mid-Water Spinnerbait: Molix Lover Spinnerbait
A spinnerbait, which looks like a safety pin with a hook in one end and blades on the either, mimics a school of baitfish and is a standard in every pro's box. This lure, which Iaconelli helped develop and prefers in a combo of silver and gold blades, is one of his favorites. "Those flashing blades in the back look like a school of minnows," he says. "It really does work. I like to run it by a stump and a fish will hit thinking it's a school of minnows."
Best Bottom Soft Stick Worm: Berkley PowerBait MaxScent The General
"This elongated piece of plastic looks like an eel or crawfish or a worm," says Iaconelli, who rigs it Texas-style with a one-eighth to one-fifth ounce bullet weight and a 3/0 or 4/0 hook. "Cast it and let it sink to the bottom," he recommends. "Then drag it and twitch it. The fish go ga-ga over it." Iaconelli stresses to pick the colors that mimic what the fish are feeding on. Green pumpkin is his favorite. "I can rig it several different ways to fish it on the bottom or up higher in the water column."
Best Bottom Jig: Missile Baits Ike's Mini Flip Flipping Jig
"Out of all the lures I use this is the one that has caught the biggest fish of my life, including a 14-pound bass and a 12-pound bass in a tournament," says Iaconelli. Another he helped design, this jig has a bigger profile and imitates crawfish ("All fish—bass, walleye, pike—love to eat crawfish," he says.) The jig has a silicone skirt you tie on. After it hits the bottom, it flares up and undulates. "You shake it. Hop it. It's perfect," he says.
This article was originally published on