The Best Fire Pits For Your Backyard This Fall
From basic, wood burning cauldrons to propane-burning setups that double as patio centerpieces.
by Fatherly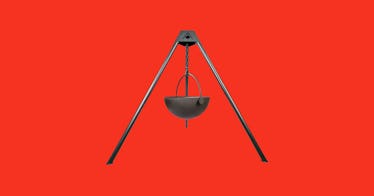 Fall nights by the fire are nights well spent, and with temps dipping, it's time to get your burn on. Sure, you could take a shovel and a pile of bricks before doing your best, but the new crop of fire pits are well worth the investment and work a hell of a lot better than your homemade contraptions. These metal or stone enclosures keep the flame contained while assisting it to burn cleaner. They also add an elegant touch to outdoor areas rather than the look of a community college pottery class (no offense). Portable fire pits also come in a variety shapes and sizes, from basic cauldrons to elegant enclosed models, and they are fed off a variety of fuel sources, from wood to kindling, gas, or kerosene. Some can even be used to cook, extending wiener roasts and s'mores into the autumn and early winter. So if you're looking for family-friendly, socially distanced activities this season, it's time to pick up a patio fire pit before everyone else gets the same bright idea.
Our advice: Get something that's durable, first and foremost. Next, select one that's aesthetically pleasing, since it'll be a prominent piece in your yard, deck, or porch. Wood-powered fire pits are more traditional but require a constant source of wood, which can be challenging in the city. Gas-powered fire pits turn on instantly, providing immediate gratification, and will burn for far longer, but they're often pricier. Regardless of the type that best fits your needs, these are the best ones out there, at all price points.
The Best Wood Burning Fire Pits
The Best Gas Fire Pits
The Best Table Top Fire Pits
Every product on Fatherly is independently selected by our editors, writers, and experts. If you click a link on our site and buy something, we may earn an affiliate commission.
This article was originally published on