The Best Fidget Spinners for Kids and Adults
If you're looking for a kid toy or a desk toy, these are the fidget spinners you should consider.
by Dave Baldwin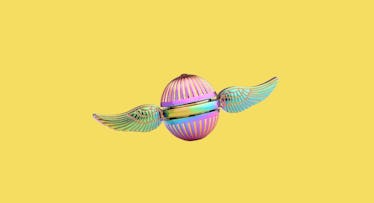 Fidget spinners were designed to help kids with ADHD channel their nervous energy. They were used as unproven therapeutic tools for years until they blew up a few years ago. Kids love spinning and collecting them, and there is even an active fidget spinner trick community sharing videos on YouTube. For adults, rotating the low-friction spinners can be relaxing, and spinning can supplant a range of more distracting nervous ticks in the same way a stress ball might. And while it may seem like they're all the same, there are actually tons of companies manufacturing them in every shape, size, color, and material (from plastic to titanium). Unfortunately, it's easy to spend money on a cheap model that won't last or an expensive one that isn't worth the premium.
Our favorites are moderately priced and worth it. They are built well out of solid materials, spin smoothly and quietly for at least a couple of minutes (depending on the skill level of the spinner). Whether you're in the market for a spinner for yourself or your kid, these are the ones to consider.
Pros: This fidget spinner features a metal alloy body and stainless steel bearing, and provides on an average spin that lasts one minute and is quiet and smooth.
Cons: It's not the most durable spinner in the world, so if your kid has a tendency to be hard on their toys you should opt for a harder-to-break model.
Pros: The manufacturer claims a spin time of one to three minutes. Choose from the brushed gold and chrome options or the kid-favorite glow-in-the-dark finish.
Cons: The plastic body of this fidget spinner isn't as weighty or satisfying as those of metal options.
Pros: This non-traditional fidget toy offers six different fidgety mechanisms: a button to click, switches to flip back and forth, a joystick to toggle, a dimple to touch, an array of five pegs that are oddly satisfying to play with, and, of course, something that spins.
Cons: What it has in different fidget options it loses in classic spinning action. This is not the toy to buy if your kid wants a fidget spinner.
Pros: Reviewers say that this spinner performs exceptionally well, particularly for its sub-$10 price. The matte black finish looks great, and the stainless steel bearings are nice and smooth.
Cons: Some said that the body, while it looks good, isn't as durable as it should be.
Pros: We're big fans of the rose gold finish and the included velvet bag and hard carrying case, both of which can keep the two pieces of this spinner from getting separated in your bag.
Cons: Some users said that the finish on this spinner wore off a bit quickly, so if you're not a fan of the weathered look you might want to look elsewhere.
Pros: The steel ball bearings in the center come lubricated with a specialized oil that the company claims helps this fidget spinner spin faster and longer and reduces the chance of corrosion and issues with the bearings. And speaking of bearings, this spinner comes with both "therapeutic" and "performance" bearings that you can swap out. The former is meant to be louder and produce shorter spins while the latter is designed for longer, quieter spins.
Cons: Changing the bearings isn't exactly a painless process. It requires a screwdriver and the delicate application of pressure.
Pros: These metal spinners come in five different designs, which makes them great if you find that your kid gets bored spinning the same one over and over again. They all have a mesmerizing, shiny rainbow finish that looks awesome at high speeds and quality bearings for reliable performance.
Cons: Some reviewers have complained that they can only get these spinners going for about 90 seconds, which would definitely be on the lower end of the spectrum.
Pros: At first glance, this fidget spinner looks pretty standard. All five of its finishes are pretty plain, and its shape and size are standard. Press down on one of the balancers, however, and the three LEDs in each balancer light up. Press down again to cycle through the five different patterns the lights, which can emit red, green or blue light. Experimenting with what those lights look like while spinning adds an extra layer of fun to this fidget spinner, another wrinkle that can entertain kids who've become jaded with normal spinners.
Cons: A big benefit of fidget spinners for parents is that they don't need batteries. That obviously goes out the door with this model, which uses watch batteries you may not typically have on hand.
Pros: Yes, it's pretty to look at. But this bright Möbii fidget ball fits right in your pocket, and is a handy way to release stress or deal with boredom. The rings are woven together so that you can rotate the rings through and spin them.
Cons: At only an inch wide and three-quarter of an inch tall, this toy is a choking hazard that's not great for younger kids.
Pros: There's a lot more fun to be had when your fidget spinner flies. Kids can toss it up in the air in boomerang mode, where it obviously will come back to you, as well as suspended, low altitude, and dive modes for even more varied play.
Cons: If you're looking for a toy that can help your kid avoid distraction, this is not it.
Every product on Fatherly is independently selected by our editors, writers, and experts. If you click a link on our site and buy something, we may earn an affiliate commission.
This article was originally published on