The Best Father's Day Gifts for Eating, Drinking, Traveling, and Relaxing
Based on a survey of 1,000 dads, the stuff they really want for Father's Day this year.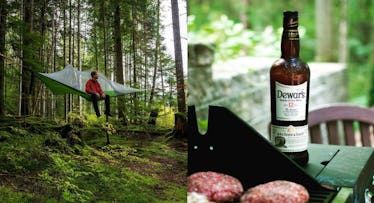 This article was produced with our friends at DEWAR'S, who celebrate the entrepreneurial, adventure-embracing spirit of fathers everywhere.
Whether you are a dad or you're shopping for a gift for one, nailing down the perfect Father's Day gift is a notoriously tough task. Dads are taught to model selflessness and, let's be real, do not excel as a species at the ask. And those aren't just generalizations. The data bear this hypothesis out. According to a recent Fatherly survey of more than 1,000 dads, fathers are quick to put presence over presents–some 81 percent said they'd forego new stuff for quality time with their loved ones, specifically their partner. Still, any experience they might choose can be enhanced with the right gear (and, lest you get the wrong idea, almost 20 percent of guys are still eager to unwrap something awesome). That's where this Father's Day guide comes in handy. Just because a guy puts the needs of others ahead of his own doesn't mean he can't look, feel, eat, and drink well while doing it.
Traeger Pro Series 34
The Trager Pro Series 34 has two huge racks that can accommodate 40 burgers, six chickens, 56 hot dogs, and 9 rib racks, which sounds like a lot, but 41 percent of dads want a new grill to feed their families on Father's Day — and who's gonna argue? Even if Dad's not quite king of the grill, the Pro's convection process and digital temperature gauge will ensure that sweet hardwood smoke gets circulated with delicious precision.
ButcherBox
So, yeah, about all that meat. The dads who desired a grill didn't stop there — they wanted a whole stack of food to grill up for the party. And here it is. Butcher Box is a subscription service dedicated to giving everyone access to grass-fed beef and other natural ingredients. Every box comes with a choice of beef, chicken, or pork, with enough for 18-25 meals. Or one epic Father's Day cookout.
Skagen Hagen Connected Leather Hybrid Smartwatch
A small group of style-savvy dads (15 percent) wanted a new watch, and this timepiece is smart by any definition. Underneath the classic leather strap and silver case lies an activity tracker and sleep monitor that delivers texts, emails, and call notifications when connected via app to any Android™ or iPhone®. It even has music control so dads can cue the "Wrap It Up" music if the in-laws' visit starts to linger too long.
Dewar's 12
Dads may not be begging for neckties anymore, but certain classics will never go out of style. Case in point: more than a quarter of dads want an exclusive bottle of aged whisky for Father's Day like DEWAR'S 12 Blended Scotch Whisky. "The Ancestor," so named for founder John Dewar, is a time-honored, double-aged blend that's extra smooth. Just like Dad, probably.
Norlan Whisky Glass
And because dads don't drink alone, snag a pair of Norlan Whisky Glasses. These are said to have been "designed to capture whisky's complex flavors and aromatics and deliver them to the senses like never before." Which is probably true, but even if it isn't, any dad would look cool and sophisticated like never before while sipping from one.
Tentsile Stingray Tree Tent
When it came to a Father's Day trip, 45 percent of dads chose a cabin in the mountains or woods as their ideal destination. Elevate the campsite with this Ewok-inspired (seriously), no-technical-skill-required tree tent. Just find three anchor points — aka tree trunks — and boom, instant treehouse. Add one of their hammocks to create a multi-level outdoor living space, in case Pops needs a rest from all that relaxing in nature.
Filson Medium Field Duffle
Another quarter of wanderlusty dads said they'd opt for an international destination as their Father's Day gift of choice. All that's left is to pack a bag for the weekend. This one features an internal mesh storage pocket, shoe compartment, leather handles, and water-repellent, abrasion-resistant fabric. It's also just plain handsome.
LG Minibeam LED Projector
This theater-quality HD projector is barely bigger than a smartphone. Which means the 18 percent of dads hoping to enjoy their Father's Day scotch laid back with their favorite classic movie can do so anywhere there's a screen or a wall to project it on.
Misc. Goods Co. Ceramic Flask
Fatherhood is the ultimate gift, sure, but sometimes the best present kids can give their parent is some time alone. Thirty-five percent of dads said all they really want is a night out with their partner, sans kids. Wherever that night may take them, this 11-ounce, brass- and leather-accented ceramic flask will make sure the party continues all night — and that there's a little hair of the dog left after Grandma drops the kids off at home the next day.
Pigro Felice Modulair Double Hammock
For the 20 percent of dads who said they'd prefer to enjoy their Father's Day scotch while floating in the pool, it doesn't get much better than this double-wide pool hammock from Pigro Felice. An inflatable PVC frame surrounds a supportive, translucent mesh big enough for Dad to have some company while enjoying the sun and spirits. That the company name translates to his Father's Day mood of "Lazy Happy" is a purely felice coincidence.
ENJOY RESPONSIBLY.
©2017. IMPORTED BY JOHN DEWAR & SONS COMPANY, CORAL GABLES, FL.